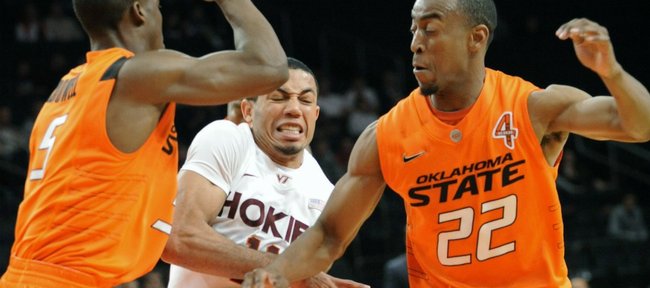 New York — Virginia Tech was facing what was almost a must-win game in late November.
The Hokies had lost to No. 5 Syracuse in the semifinals of the NIT Season Tip-Off and were trying to hold on for a win in the third-place game over Oklahoma State.
"This time of the year it's really just about trying to develop an identity," Virginia Tech coach Seth Greenberg said. "We had three freshmen — two or three freshmen on the court at the same time. Finding a way to win this game with that young a team and getting them to better understand how to play hard right now — that's the process we're going through."
Erick Green scored 18 points and Virginia Tech, despite not making a field goal over the final 6½ minutes, beat Oklahoma State 59-57 on Friday.
The Hokies (4-1) went 10 of 17 from the free throw line over the final 6:01 to hold off the Cowboys (3-2), who got within two points twice.
"I'm proud of the team and how hard we worked," said Green, a junior. "The hard work has paid off. We still have a lot of work to do but I'm really proud of the guys."
Dorian Finney-Smith, who finished with 10 points and 14 rebounds, hit a 3-pointer with 6:49 to play to give Virginia Tech a 49-40 lead. Two free throws by Jarell Eddie kept the Hokies up 53-44 with 5:27 left. Oklahoma State scored the next seven points to get within 53-51 with 3:37 left on a drive by Jean-Paul Olukemi. The other time the Cowboys got within two was the final margin on a 3-pointer by Keiton Page with 1.4 seconds left.
Markel Brown had 14 points and 10 rebounds for Oklahoma State, while Olukemi had 13 points and Page added 11.
"We just went out and played hard," Brown said of the comeback. "Got back in the game, did the things that we needed to do right, defensive transition and cutting down turnovers."
Virginia Tech, which lost 69-58 to No. 5 Syracuse in the semifinals, took the lead for good with a 14-0 run that gave the Hokies a 21-12 lead with 6:40 left in the first half. The Cowboys went 5:57 without a point, missing two shots and committing four turnovers in the span.
Virginia Tech finished with a 45-37 rebound advantage.
"It was huge, getting to the glass," Greenberg said. "We spent a full week talking about pursuing the ball preparing for Syracuse. ... It was physical and long and the keyword was make a hit and pursue the ball."
The Hokies, who led 32-23 at halftime, are 7-2 at Madison Square Garden since Greenberg became coach in 2003.
"Thanksgiving parade is great. There's nothing better than Madison Square Garden," Greenberg said. "But going home 0-2, that would have been tough. Now we have a chance to build on it."
Oklahoma State, which lost 82-67 to Stanford in the semifinals, won this tournament in 1991.
"I saw much better body language from our team tonight," Cowboys coach Travis Ford said. "I saw a much better effort. We played to win rather than play not to lose. We competed much better today than we did our last time out. So that's a step in the right direction."
These teams play a regularly scheduled game in Stillwater, Okla., on Dec. 31.
"It's almost like having a 13th team in the conference," Greenberg said laughing.