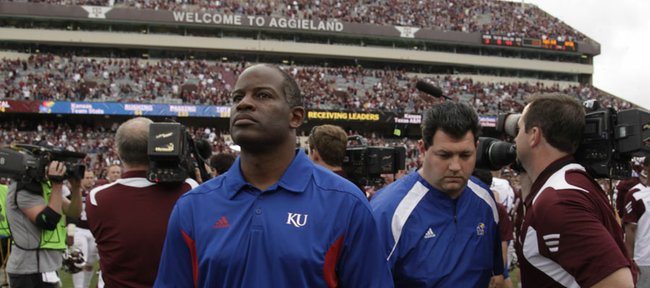 Say what you will about Kansas University football coach Turner Gill's two seasons at KU, but it's hard to dispute that Gill has become highly skilled at putting blowout losses in the past and moving on to the next game.
As the saying goes, practice makes perfect.
In 23 games as the head coach at Kansas, Gill has had 18 opportunities to show his resolve after a loss. Though some setbacks have been tougher than others to move on from — 10 of KU's 18 losses during the past two seasons have come by 30 or more points — Gill, without fail, has emerged from the locker room following each loss with the same message.
"The question, as we all know, is how do you handle adversity?" Gill said again on Saturday after KU's 61-7 loss at Texas A&M.; "We've had some ups and downs during the season, and now we have an opportunity to see how we handle this. Our guys will continue to go to work, our coaches and our players."
Few bounce-back opportunities have set up as well as the one that lies ahead for the Jayhawks, who will play arch-rival Missouri at 2:30 p.m. Saturday in the season finale at Arrowhead Stadium in Kansas City, Mo. In addition to being an intense rivalry game played in an NFL stadium, this year's match-up could be the last ever in the bad-blood history of the Border War.
With Mizzou leaving the Big 12 for the SEC in the near future, at least a portion of the Jayhawks' focus this week will be on handing the Tigers a loss in what's likely to be their last Big 12 Conference game.
"Since we're not going to a bowl game, I guess we'll go in and look at this as being our bowl game," KU junior cornerback Greg Brown said of the match-up with Mizzou. "We're not gonna be playing them again, and we haven't won against them the last few times. But going out there against them this time and getting this win would definitely be big for our team."
Added Gill of potentially playing the Tigers for the last time: "I think it is what it is. Our guys know about it. I'm not going to have to mention it every single day or anything of that nature. But we all know what the significance of it is, and we'll be ready to play."
Gill, who could be coaching his final game at KU this weekend, said he thought his team still was fighting.
"Frustration," he said. "But nobody has quit."
Not all of the Jayhawks were so sure. Senior co-captain Steven Johnson, who will be playing the final game of his Kansas career when the Jayhawks (2-9 overall, 0-8 Big 12) take on Missouri (6-5, 4-4), only could speak for himself when asked if he thought his teammates had quit on the season.
"I don't know. I hope not," he said. "They've all been given an opportunity to play Div. I football, and if an individual is given an opportunity to play Div. I football, they have pride and self-awareness about what's going on and things like that. … We've got one game left and we're trying to make the best of it."
Patmon to play
Gill said Sunday night that sophomore cornerback Tyler Patmon, who missed the A&M; game to serve a one-game suspension for violating team rules, would play against the Tigers.
In addition, seniors Jeremiah Hatch (center) and Tim Biere (tight end) both were listed as questionable. Hatch started at A&M; but came out late in the second quarter. Biere went through warm-ups but did not play in the loss to the Aggies.