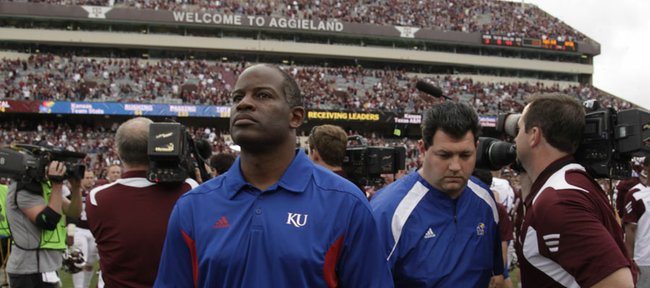 Podcast episode
Kansas coach Turner Gill talks to reporters following the Jayhawks' 61-7 loss to Texas A&M; on Nov. 19, 2011.
KU vs. Texas A&M
College Station, Texas — If Kansas University football coach Turner Gill could get his players to execute on the field the way he has them talking in the media room, he might be on to something.
Saturday, in front of more than 85,000 whoopin' and hollerin' Aggie fans at Kyle Field, the Jayhawks were pummeled from start to finish by a stronger, faster and more disciplined Texas A&M; football team. The 61-7 loss marked the Jayhawks' worst defeat of the season in terms of the final score, but you'd never know it from talking to the handful of Jayhawks made available to the media following the game.
Sure, the players were disappointed, frustrated and embarrassed. But each one of them continued to push Gill's message of positivity. Not one lashed out. Not one let the 54-point drubbing keep him from answering questions or trying to make sense of how the team could have played so poorly. Not one so much as hinted at anything other than a desire to move forward with his head held high and the promise of better days to come.
"Right now, I'm just sitting here and I'm just like ... it hurts," senior linebacker Steven Johnson said. "The only thing I'm trying to do is just keep my head up and keep fighting. I'm not gonna quit. This whole game is about life. When you get knocked down and things look terrible, you gotta keep fighting."
Added sophomore running back James Sims: "It's tough. But we just gotta push through it. It happens to everyone. We just gotta continue to push each other and get better in practice week by week and the outcome will be different."
So far, in 23 weeks of football and two offseasons, improvement has been tough to come by for Gill and company. There have been peaks. But the valleys have seemingly outnumbered them five to one. Because of that, Gill enters the final game of his second season in charge of the Jayhawks as a coach with an uncertain future. And that's putting it mildly. Many think Gill's time at KU is nearing its end and that the program should move forward with a new head coach next season. Several of Gill's players, and even a few KU fans, continue to support their head coach.
"Just keep fighting. Don't give up. No matter what the score was, he just wanted us to keep fighting," said Sims, sharing Gill's halftime thoughts from Saturday's game. "And that's what we did. We all respect coach Gill. We love him. He's just a great guy to be around. And we left it out on the field for him."
With next week's season finale against Missouri already big enough, Gill brushed off inquiries about his future and said he was not yet concerned about what may or may not happen after the Missouri game.
"No. No. I'm here to coach," he said. "I'm here to coach and teach and develop our players and get 'em ready for Missouri. I'm not concerned about all those (other) things."
When the season began and KU fans looked over the Jayhawks' football schedule, the Nov. 26 meeting with Mizzou no doubt jumped out as one of those games that would be worth attending.
Now, with the Jayhawks having lost their ninth straight and 18th game in 23 tries under head coach Turner Gill, you can't help but wonder if any crimson-and-blue clad fans will be there.
Here's hoping they are. Bad season or not, lameduck coach or otherwise, the KU players deserve that much. And with the game possibly being the last ever in the tradition-rich Border War series, it will be a shame if Arrowhead isn't packed.
"I know that our fans are just probably devastated right now and hurt and don't even want to back us up," Johnson said. "But I hope we get a good crowd to come out and support us because we're gonna do our best to leave it out there on the field and try to get a win for this university."
Your move, Jayhawk Nation.