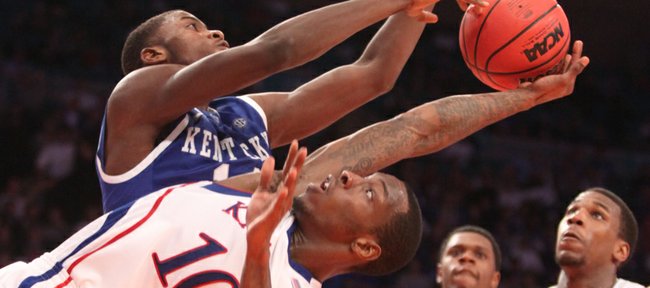 Playing No. 2-ranked Kentucky in New York's famed Madison Square Garden — on ESPN, with various NBA players, celebrities and family members on hand — had Tyshawn Taylor a bit overanxious on Tuesday night.
"There were points in the game where I was sped up and forgetting plays, just kind of excited," Taylor, KU's senior point guard from Hoboken, N.J., admitted on Thursday. "The whole situation ... the whole environment ... such a big game so early (in the season). I was so excited."
Videos
Bill Self weekly press conference: Nov. 17, 2011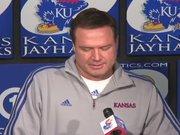 Kansas head men's basketball coach Bill Self addressed the media at his weekly press conference Thursday, Nov. 17, 2011 at Allen Fieldhouse.
Taylor blames himself for a second half in which the Jayhawks, who fell, 75-65, were outscored, 47-37. Most of KU's offense came from Taylor free throws.
"I am the point guard. It definitely starts with me," said Taylor, who scored 22 points off 3-of-13 shooting (15 of 17 free throws). He had 18 of his 22 points in the second half.
"We have to move the ball more. Defenses break down when you swing the ball back and forth. We have to be more patient offensively, and our shots are going to come."
He said mistakes were evident in watching tape of the game on Wednesday night.
"This game was a learning experience for us. I'm not glad it happened, but it's better it happened early so we can build on some things," Taylor said.
KU coach Bill Self lauded Taylor for "trying hard and trying until the end," in a 33-minute stint, but acknowledged, "what is frustrating is the way he had to score his points — by playing 'take 'em' and getting fouled (on drives).
"We're not going to win a ton of games just by playing 'take 'em.' That's not how we've ever done things. The ball has to move. The defense dictates who shoots it. We have to be patient enough to get Thomas (Robinson) a touch where he might have an angle. We just have to be patient," Self added.
And "more aggressive" in moving the ball.
"Brady (Morningstar) is the best ball-mover we've had since we've been here. Marcus and Markieff (Morris) were great passers," Self said of former players who led the offense a year ago.
"This team isn't as good a passing team yet as that team was. We'll get better at moving the ball. Guys ... we've been practicing for 3 1/2 weeks. It's a totally different team. After Towson (100-54 win), everybody was thinking, 'What a great passing team.' Our assist to turnover ratio was 6:1 (30 assists, five turnovers). That's not real. The Kentucky deal is not real. We're somewhere in the middle. We've got to do a better job of running our stuff and running our stuff to score," Self added.
The tape showed KU did play good defense versus (2-0) Kentucky.
"It's a little bit reversed. The last couple years we were not the best defensive team. We knew we'd be able to outscore teams," Taylor said. "This year, our mindset has to be different. We are not as deep as the last couple years. We have to be able to stop teams because we will not be able to outscore everybody."
Self said the Kentucky game showed his players that, "we're better as a group than we are individually. We have to become one, and we are not one yet. I don't know any team in the country that's one this time of year. I think we can learn from it, and our guys will be better from it. It's a long season in basketball. I'm not discouraged at all because we didn't win the game. I am encouraged in how well we guarded and understand there is so much room for improvement. This team has so much higher ceiling than it showed the other night."
Off to Hawaii: The Jayhawks were to practice today, then fly charter to Maui, site of the Maui Invitational. KU will meet Georgetown in a first-round game at 11 p.m., Central time, Monday, at Lahaina Civic Center.
Self was asked if the team could bond on a trip to such an appealing place.
"To me, you bond through your team. You don't bond by going hang gliding or surfing or deep sea fishing," he said with a smile.
Yet he will give the players some free time in paradise.
"I do think the fact we're going out there early, we get there and basically have all day Saturday. Saturday will be a play day for them," Self said. "We'll practice hard, but they'll get a chance (to see Maui). Sunday it's pretty much a business trip until Wednesday after the (third) game. After the game we'll give them time off until we take off (for the flight home). They are going to get a chance to enjoy it. I always said if you want to have fun, win. That's more fun than anything else. These guys know that."
Recruiting: Andrew White, a 6-6 senior forward from Miller School in Chester, Va., told Zagsblog.com he did not sign a letter of intent with any of his finalists on Wednesday, the last day of the early signing period. He has a final list of KU, Texas, North Carolina State, Richmond, Virginia Tech, West Virginia, Cincinnati and George Mason.
"It's still a pretty long list of schools," White said.
Rivals.com's No. 56-rated player nationally is planning on committing to a school in coming weeks, then signing in April. His dad told jayhawkslant.com that a decision would be announced Nov. 28 or 29.