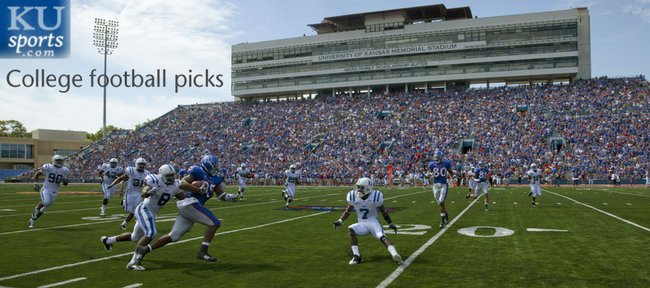 The following are the Journal-World staffers' picks for Week 12 of the college football season.
Week 12 games
Kansas at Texas A&M;
Kansas State at Texas
Oklahoma at Baylor
Nebraska at Michigan
Penn State at Ohio State
Miami (FL) at South Florida
Off-the-wall question: What is your favorite Saturday Night Live skit?
Matt Tait (42-18 overall, 3-3 in Week 11)
Texas A&M; 44, Kansas 20
Kansas State 30, Texas 28
Oklahoma 38, Baylor 25
Michigan 26, Nebraska 17
Ohio State 27, Penn State 16
Miami 31, South Florida 30
Question: It's a tie and both feature Tim Meadows. The first is Meadows in the role of John-John Mackey and his Storm Tracker Accu-Cast; the second is Meadows as Jingleheimer Joe in "Jingleheimer Junction."
Tom Keegan (37-23 overall, 4-2 in Week 11)
Texas A&M; 34, Kansas 14
Texas 34, Kansas State 24
Oklahoma 48, Baylor 21
Nebraska 34, Michigan 31
Ohio State 31, Penn State 17
Miami 34, South Florida 21
Question: A Lloyd Bentsen skit in which he goes up to everybody at a party and says, "And then I said," and repeats the famous line that enabled him to own Dan Quayle in a VP debate. On the left is the actual debate, not the skit.
Eric Sorrentino (34-26 overall, 3-3 in Week 11)
Texas A&M; 49, Kansas 14
Kansas State 21, Texas 20
Oklahoma 56, Baylor 20
Michigan 23, Nebraska 20
Ohio State 24, Penn State 21
Miami (FL) 30, South Florida 22
Question: Anything by Will Ferrell. My favorite is him singing Sisqo's 'Thong Song' as Robert Goulet. Also, his 'Get off the Shed' skit is a close No. 2!
Gary Bedore (33-27 overall, 3-3 in Week 11)
Texas A&M; 55, Kansas 22
Texas 34, Kansas State 27
Oklahoma 29, Baylor 14
Michigan 35, Nebraska 21
Ohio State 38, Penn State 21
Miami (FL) 22, South Florida 19
Question: That Glengarry Elves skit of last week was pretty darn funny. But I'll go with any one of the Celebrity Jeopardy skits with Will Farrell the host having problems with Sean Connery the celebrity guest.
Jesse Newell (32-28 overall, 3-3 in Week 11)
Texas A&M; 38, Kansas 14
Texas 31, Kansas State 28
Oklahoma 52, Baylor 35
Michigan 31, Nebraska 14
Penn State 21, Ohio State 17
South Florida 27, Miami (FL) 20
Question: Peyton Manning and the United Way.