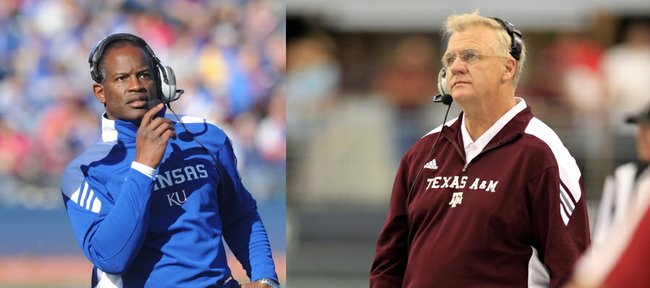 Former Nebraska coach Tom Osborne may have shaped the way Kansas University coach Turner Gill looked at football, but this week's opponent, Texas A&M; coach Mike Sherman, helped Gill organize those views.
Although they worked together for just one year in Green Bay — Sherman as the head coach and Gill as the director of player development — the 2005 season proved to be a springboard for Gill as a head coach.
The following year, Gill was hired at Buffalo, where he took the Bulls program from laughingstock to respectability, and, four years after that, he found BCS gold by coming to Kansas.
"It was a good experience," said Gill, whose Jayhawks will face Sherman's Aggies at 11 a.m. Saturday in College Station, Texas. "It was my first time being in the NFL. On the outside looking in, you never know what goes on inside, but I think the thing I learned from those guys is they worked hard. They all had their own personalities. They were a close-knit group. They taught me a lot about football and the work they do in the offseason. I think with Mike Sherman, he was very organized in the way he presented things. The way he went about things with the X's and O's of offensive football. I had a chance to really zero in on that and organize things if I had the opportunity to be a head football coach."
Gill's duties with Green Bay mostly were focused around helping the players make the transition to the NFL and being a liaison between the players and the coaching staff. It was in that role that Gill developed something he still carries with him to this day — the word of the week.
One day, Sherman asked Gill to come up with some inspirational terms that the team could focus on during each week's preparation. Originally, Gill, who has since narrowed the list down to 26, came up with 75 different words, everything from confidence and perseverance to resilience and passion.
"I gave those to him, and he decided what he wanted to use and then I kind of carried those with me when I became a head football coach," Gill said during a recent episode of his weekly radio show, Hawk Talk with Turner Gill.
So why 26? Gill said he chose to settle for that number not because he wanted one for each letter of the alphabet but because there are 26 weeks from the first week of two-a-day practices in August to signing day in February.
KU-A&M; by the numbers
Saturday's meeting will mark the 11th all-time between Kansas and Texas A&M.; The Aggies lead the series, 8-2, including a 4-1 mark at Kyle Field in College Station, Texas. A&M; defeated KU, 45-10, last year in Lawrence, and that dropped KU's Big 12 record versus A&M; to 1-6. The Jayhawks' lone victory against the Aggies in the Big 12 era came at Kyle Field in 2007, when Todd Reesing and company topped A&M;, 19-11, to move to 8-0 during the Orange Bowl year. Kansas' other victory against A&M; came in the first meeting in 1974, when the Jayhawks won 28-10 in Lawrence.
Eight honored by Big 12
KU officials announced Thursday that senior tight end Tim Biere and junior offensive lineman Trevor Marrongelli had been named to the Academic All-Big 12 first team for the third time in their careers.
Biere and Marrongelli were joined on the first team by senior Brian Blackwell, junior Gavin Howard, senior Chase Knighton, senior Quinn Mecham, junior Shane Smith and red-shirt freshman Keeston Terry. Blackwell was one of six players on the 134-man first and second teams to own a 4.0 GPA.
Youth movement?
So far this season, nine true freshman have played for the Jayhawks in some form or another, making KU one of the youngest teams in the league. Gill said he liked his newcomers to experience Big 12 football right away and said he would look to continue to develop those guys during the final two weeks of the season.
Asked if that meant exploring putting more freshman on the field in the final weeks, Gill leaned on his commitment to chasing the team's first conference victory.

"We're going to do what we feel will give us the best chance to win," Gill said. "We'll take into consideration to get some young guys more playing time, but the No. 1 priority is playing the best guys that give us the best chance to win the football game."