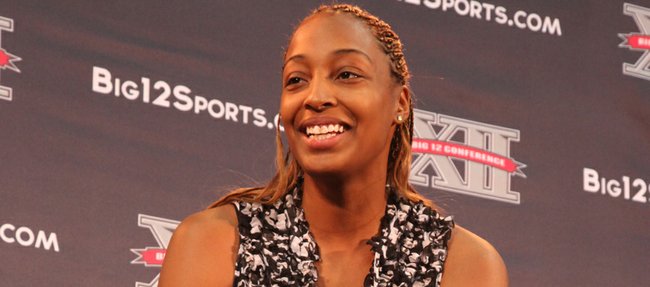 There is some uncertainty for Kansas University's women's basketball team as it heads into its game tonight against Creighton — specifically, whether junior forward Carolyn Davis will be able to play.
But the Jayhawks at least know one thing for sure: If they want to extend their eight-game winning streak against the Bluejays, they will have to defend beyond the three-point arc.
KU enters its 8 p.m. home game familiar with Creighton. The teams have met in each of the last two seasons, with Kansas winning both at Omaha this past December and at Allen Fieldhouse in the second round of the 2010 WNIT.
Kansas coach Bonnie Henrickson, who is 8-1 against the Bluejays in her time at KU, said she knows what to expect out of Creighton (2-0).
"What is very consistent about who they've always been is three-ball, three-ball, three-ball. Penetrate, kick," Henrickson said.
In a pair of road victories to open the season, at North Dakota and North Dakota State, the Bluejays hit 13 of their 44 three-point tries. Junior guard Alley Jensen leads the team with seven trifectas, and sophomore guard Jordan Garrison has hit four.
Kansas junior point guard Angel Goodrich said, the Jayhawks (1-0) know what they're up against.
"Creighton's a good shooting team, so we need to be able to contain, first of all, and be able to not let them shoot a three," she added, with a laugh.
It will be up to Goodrich, along with the rest of KU's backcourt, to deal with Creighton's defensive approach, Henrickson said.
"On a make, on a dead ball, it's going to be pressure the whole way," the eighth-year KU coach said, "because they're not as big and dominating inside."
The Bluejays have just three 6-footers — 6-foot starting sophomore forward Sarah Nelson, 6-3 sophomore center Alyssa Kamphaus and 6-foot freshman forward Riley Norman, who has yet to play this season. Compare that to KU's six players who stand 6-foot-1 or taller, and the Jayhawks have a definite size advantage on the interior, where senior forward Aishah Sutherland and sophomore forward Tania Jackson are listed as probable starters, with Davis day-to-day due to a stress fracture in her right foot.
Without Davis against Western Michigan in its season-opening home win, Kansas still scored 34 points in the paint. Sutherland and Jackson combined for 30 of the Jayhawks' 76 points, and 6-1 freshman forward Bunny Williams chipped in six points off the bench.
In its 2-0 start, Creighton is led by Jensen and Nelson, who are both averaging 14.5 points a game.