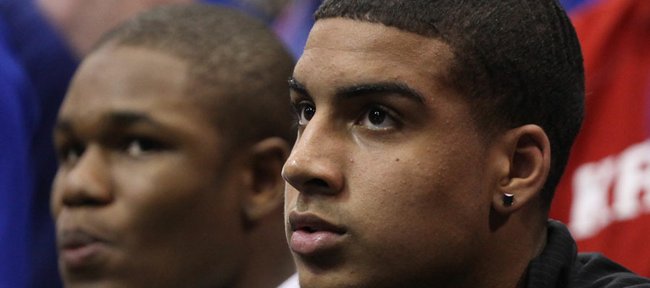 Landen Lucas has signed a national letter of intent to play basketball at Kansas, coach Bill Self announced Tuesday. Lucas is the second signee of the day, joining forward Zach Peters.
The top prospect in the state of Oregon and a three-star recruit, the 6-foot-10, 230-pound Lucas began high school career at Sunset High School in Portland, moved to Findlay Prep in Henderson, Nev., last year and is back in Portland at Westview High School for his senior season.
"We've known about Landen for a long time. We've seen him play a lot and he came to camp this past summer," Self said. "We definitely have a need for a big guy and he's big enough that he can defend the five (post) and certainly skilled enough that he can step away from the basket and shoot the basketball. He was obviously highly recruited because his final choices were four other great programs. We're fortunate he fell in love with this place when he came out here in the summer and we were able to convince him on his official visit this past weekend."
Last year at Findlay Prep, Lucas averaged 6.0 points, 6.0 rebounds and 2.0 blocked shots per game.
When asked what impresses him most about Lucas, Self said, "His skill set. He can shoot it. He can pass it. He understands the game like the big guys we've had here in the past, such as Sasha (Kaun) and Darnell (Jackson) that really have a great feel on how to play."
Lucas is the son of former Oregon standout Richard Lucas, who played for the Ducks from 1987-91.
"Landen comes from a basketball family with his dad being a very good player at the University of Oregon," Self said. "I actually coached against his father when I was an assistant at Oklahoma State. We look forward to having Landen and his mother, Shelly, and father be part of our basketball family. This is a very bright young man that will certainly achieve great things on the court and in the classroom for Kansas."