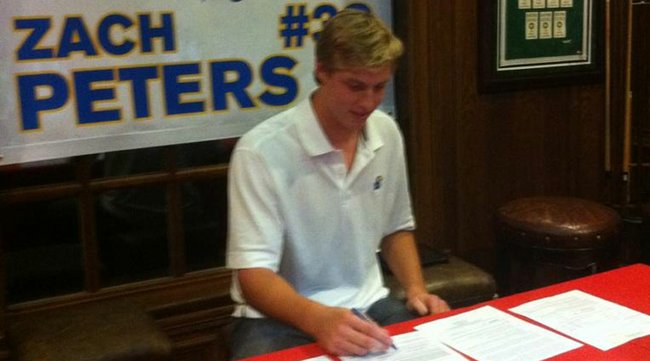 High school forward Zach Peters has signed a national letter of intent to play basketball at Kansas, coach Bill Self announced Tuesday.
Peters signed his papers at a ceremony with family and friends at his home in Plano, Texas on Monday night. The 6-foot-9, 240-pound Peters orally committed to KU in April 2010.
"Zach's big. He's a legit 6-9, 240-pound high school senior that can really shoot the basketball," Self said. "He's big and rugged. We can play him to where he's big enough to defend the five (post) or skilled enough to play in at the four (power forward)."
Peters averaged 15.3 points and 9.0 rebounds in 2010-11 in guiding Prestonwood to a state runner-up finish in TAPPS (Texas Association of Private and Parochial Schools).
"Guys that can really shoot are usually great passers. I think he will be that," Self said of Peters. "He's going to be a guy that can do a lot of things. We know he's a big guy that can stretch it but he likes to hit you and certainly contact and physical play will not be an issue with him early in his career."
Peters was rated the No. 97 player by Rivals.com following his junior season at Prestonwood. He is now ranked 144th by Rivals.com.
"He didn't play summer basketball the past two years so his stock has fallen from the national rankings," Self said. "All that did was motivate this kid. Zach is a potential top-20 player in the country. I think he'll come in and have a great impact right off the bat."
Peters joins forward Perry Ellis as the second member of KU's 2012 signing class.
"We're so excited to get (Peters' parents) Tim, Christy, Zach and his brothers as part of our KU family," Self said. "Their entire family has been extremely loyal to us throughout this recruiting process. I can't wait to have them on board."