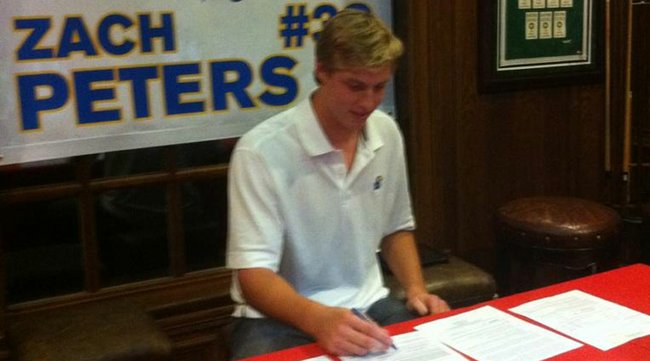 Zach Peters, a 6-foot-9, 235-pound senior power forward from Prestonwood Christian Academy in Plano, Texas, orally committed to play basketball at Kansas University way, way back on April 21, 2010.
On Monday night, in front of family, friends, teammates and coaches, he officially became a Jayhawk, signing a letter of intent at a ceremony in the comforts of his own home.
"Back then, it didn't feel all that real," said Peters, who averaged 15.3 points and 9.0 rebounds a game his junior season. "I knew I was going there and thought it'd be awesome, but now it's really starting to settle in. I am actually a Jayhawk, not a future Jayhawk. I'm really excited. I know it's the right choice."
A good student, Peters actually considered playing for the Jayhawks this season.
Let him explain.
"In April, they (KU coaches) called me up and knew they were losing the (Morris) twins and were lacking a big-man presence. They said, 'We are looking at your grades. You only need to take two summer classes and could come to KU this next season,''' Peters related.
"I said, 'Wow, I have a big decision to make.' They wanted me to come play. That meant a lot to me. It showed me they have confidence in who I am as a player."
Peters, who is Rivals.com's No. 144-rated player nationally, ultimately decided to return to Prestonwood Christian.
"All my friends were graduating from the year before. I was already looking forward to my senior year and doing what all of them got to do," Peters said. "I didn't feel I was ready to go at that point."
He decided not only to return, but to also play football, which he gave up after his freshman season. Peters, a wide receiver, has 13 touchdown catches and 968 receiving yards for the playoff-bound Lions.
"I'm 50 yards away from 1,000 yards. If Parker (Ash) our quarterback throws me the ball, hopefully I'll pass 1,000," he said with a laugh. "We have a good chance of going to state (title game) with the guys we've got. I think we'll make it," Peters said.
As far as risking injury in football ... "I feel great. I feel refreshed," he said. "I've had a couple nicks, bruises on my legs, nothing serious. It's nothing basketball hasn't caused for me in the past."
He's thankful KU's hoops coaches approved of him playing football.
"They joke around with me that they don't want me to play," Peters said. "They want whatever I do that makes me better as an athlete."
Peters chose KU after making unofficial visits to North Carolina, Texas, Memphis, Kentucky, a lot of schools.
His first visit to KU was the Colorado game on Jan. 27, 2007.
"Julian Wright made a faux paux on a breakaway and lost the ball in midair," Peters' dad, Tim, recalled. "He landed on his back. Coach (Bill) Self wouldn't let anybody go out and get him. I think we heard every word imaginable. I said right then, Zach was in eighth grade, 'Well I guess he's not going to Kansas.' Boy, coach Self just let Julian Wright have it. ... Zach (ultimately) made the decision, told himself, 'If I am going to be what I need to be in the league, I need to be coached by coach Self and coach (Danny) Manning.' Coach Self and Manning have been as honest as the day is long. If you are afraid of hard work and afraid of coach putting a boot up your butt, you won't go to Kansas. I think it scares some kids off. But at the end of the day, Zach made the right decision," Tim Peters added.