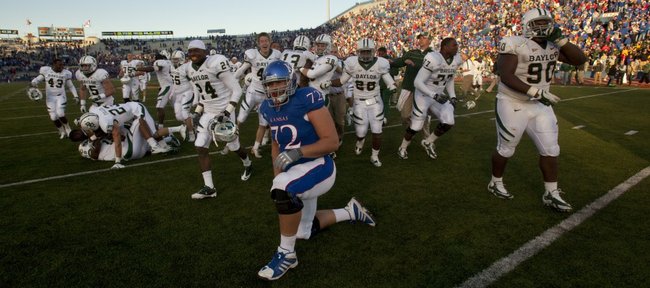 Each week, there are different elements that go into preparing a game plan for a college football game.
This week, healing figures to be near to the top of the list for both Kansas University and Texas A&M.;
When the Jayhawks and Aggies square off at 11 a.m. Saturday in College Station, Texas, it figures to be business as usual.
What KU coach Turner Gill and A&M; coach Mike Sherman do during the week leading up to the game, however, might be a departure from the norm.
Last week, both teams lost overtime games, with Kansas falling, 31-30, to Baylor, and A&M; falling, 53-50 in four OTs, at Kansas State. Bouncing back after losses has been challenging for both programs this season, but doing so after coming so close the week before figures to make the mental hurdle higher.
"Since the (K-State) game ended to this moment, I've been thinking about that part of it," said Sherman on Monday morning's Big 12 coaches teleconference. "There's so much of the game that's mental. We had different opportunities during the course of that game to win it, and we didn't. Certainly in overtime, it's an even ballgame, and you have as good a chance to win it as they do. We didn't get that done. That carries over into this week."
The Aggies (5-5 overall, 3-4 Big 12) enter this weekend needing one victory in their final two games to become bowl-eligible. With a home game against Texas on the docket in A&M;'s regular-season finale, the Aggies figure to put plenty of emphasis on this week's golden opportunity against Kansas (2-8, 0-7), and Sherman said getting his players' minds right before kickoff would be as important as game-planning for the Jayhawks.
"I think, as a coach, you have to walk a fine line," Sherman said. "(Players) have to be held accountable, we have to be held accountable for the predicament that we're in but, at the same time, (we have to) build up their confidence, as well. We've been close too many times to not have won those games. It's inexcusable."
Four of A&M;'s five losses have come by a combined 14 points, making the fragile mental state of the Aggies' players and coaches something that has lingered.
"I've never, as an assistant or head coach, been through a situation like this," Sherman said. "This is certainly a first in my career and something I don't wish on anybody. I think every coach will go back after his season and say, 'Could've, would've, should've done this.' But not with the frequency that I'm gonna have to do at the end of this season."
For Gill, rebuilding confidence after such a close defeat isn't as daunting. In fact, in many ways just being close against Baylor was a confidence boost for the Jayhawks, who have dropped five games by 30 or more points. Still, Gill said he recognized the importance of refocusing after the emotional loss on Senior Day.
"That's gonna be our challenge," Gill said. "We know these 18- to 22-year-old young men, in most cases, are pretty resilient. More of us adults may hold on to it a little bit longer than the young men."
Gill said he would continue to focus on the future.
"You talk about the good things, improvement," he said. "In the Iowa State game, we played four quarters and just came up short. Last week, we played four quarters and got a chance to play in overtime and came up close. So now, we're getting closer. Earlier in the year we were not close. And now we're in a situation where we have a chance to win. So if we continue to close that gap, which we have, hopefully this week is when we'll be able to finish a football game and get a W."