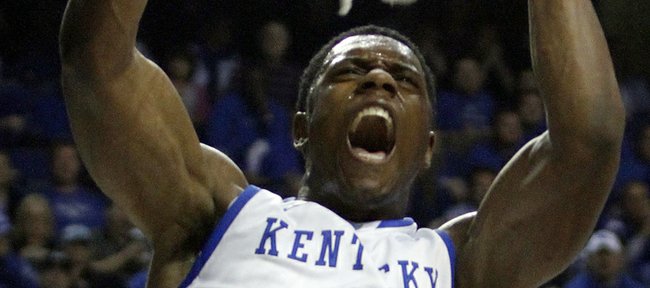 New York — The two winningest programs in college basketball history tangle tonight in the biggest — some say the best — city in the country.
"That's enough right there to start a party," exclaimed Kansas University junior combo guard Elijah Johnson, eager to contribute to the hype surrounding an 8:30 p.m. Champions Classic contest between No. 1 Kentucky (2,053 all-time victories) and No. 2 KU (2,039).
Duke, the fourth-winningest squad of all time (1,946 wins), opens the off-Broadway show with a 6 p.m. meeting against No. 38 Michigan State (1,496), with all of the action available on ESPN — where else?
"When I think of Kentucky," KU's Johnson said, "I think of a winning program, a legendary program, Rupp Arena. That's about it. It should be a good game just because of the stats."
North Carolina, by the way, looms right behind KU in all-time victories with 2,034.
As far as the outlook for this particular season, Kentucky enters 1-0 (after Friday's 108-58 victory over Marist) and ranked second in the land; KU is 1-0 (after a 100-54 pasting of Towson) and ranked 12th.
"It'll be good. It'll be a fun deal," KU coach Bill Self said. "They'll be fired up, and they've got men. It'll be interesting to see how our young guys react."
As well as Kentucky's.
Young, talented NBA prospects on the UK roster include sophomores Terrence Jones and Doron Lamb, as well as freshmen Anthony Davis, Michael Kidd-Gilchrist and Marquis Teague.
Jones — he didn't start in Friday's opener the day after fleeing the scene of a car accident (he was only a passenger in the car) — might be the best of the UK bunch.
"He'd probably have been a lottery pick (had he entered the 2011 draft)," Self said of the 6-foot-9, 252-pounder from Portland, Ore., who averaged 15.7 points and 8.8 rebounds his freshman season.
"They say Gilchrist (6-7, 232, Somerdale, N.J.) is a lottery pick. Davis (6-10, 220, Chicago) is a lottery pick. Lamb (6-4, 210, Queens, N.Y.) may lead them in scoring. Teague (6-2, 189, Indianapolis) will eventually be a lottery pick. They've got other guys who will eventually play in the league. They've got some guys. They will guard and play hard. We are going to have to really bring it. I'm looking forward to putting us in that position to see what we do," Self added.
First item on the scouting report: How does KU slow down power forward Jones?
"Just put Thomas on him. Thomas coulda went pro, too. It's like that," KU junior guard Tyshawn Taylor said of KU All-America candidate Thomas Robinson, who wasn't about to make this match-up all about himself.
Dead silence was Robinson's answer to a question of what he thought about Jones.

"They have a tough team with young, talented guys," Robinson said. "At the same time, they are in our way. We'll see 'em in the Garden."
Veterans Taylor and Johnson likely will be asked to shadow point guard Teague, who is following in the footsteps of John Wall and Brandon Knight.
"You know, he plays a big role for his team. He is one of the only pure point guards," Taylor said. "He's a good player, but he's a freshman still. He's going to make mistakes. It's like his second or third game in college. He is going to be really good, but I think me and Elijah have to put pressure on him. We are both 6-4. He's about 6-0, so we've got to use our length and just play."
The Jayhawks didn't prepare for Kentucky — but they did discuss the Kentucky challenge — even prior to the Towson game.
"(We talked about them) in general terms," Self said. "Hey, they've got men, and they've got a bunch of them. NBA people who have been to our practices and been to theirs ... they are saying, 'They've got men.' They're competitive. We are also competitive when we get it turned up. We've not gotten it turned up consistently."
Kentucky coach John Calipari, who took the Wildcats to the Final Four in his second season in Lexington — his sophomores say they are intent on winning it all in '12 — is equally complimentary of KU.
"I just don't know if we're ready to play a team like Kansas," Calipari said on his website, coachcal.com. "We're this highly ranked team who could get beat by 100 teams in the country right now."
Noted shooting guard/Queens native Lamb, who, like KU's Taylor (Hoboken, N.J.) will be playing before a batch of relatives and friends tonight: "We know Kansas is a great team. We're a great team, so we've got to go out there and compete with them."
"Kansas is a great school, great team," freshman forward Davis said. "I just can't wait to go out there and play them. Coach Cal said they're real physical, and if we start the game the way we started (Friday vs. Marist), we're not going to win."
There's a chance these teams could meet in a rematch in the NCAA Tournament.
And, who knows, maybe in regular-season games down the line.
"I think it'd be a great home-and-home every year, wouldn't it?" Self said. KU trails the series 19-6, all time.
NOTES
• KU has won the last three meetings between the teams dating to 2005. KU beat Kentucky, 88-76, in a second-round 2007 NCAA Tournament game in Chicago.
• KU's single-game record of 150 points came against Kentucky in a 150-95 win over Rick Pitino's Wildcats on Dec. 9, 1989 in Lawrence.
• Tyshawn Taylor on UK coach Calipari, who worked as a former Larry Brown assistant at KU: "I think he's definitely one of the best coaches of this era, my era. He's got a lot of guys in the pros. For the guys that want to be in the one-and-done position, he's the guy for that. If you want to come to college and leave right after that, he's the guy." More from Taylor on coach Cal: "Probably that national championship game when he coached Memphis against coach Self, that's one of the things I definitely remember about coach Cal. He lost to coach Self (in '08 title game)."
• Taylor on the Garden: "I think it's an amazing place to play, real close to home. I'll have a lot of family in there, which is a good thing. Last year, I remember it being cold (on early-December trip in which KU beat Memphis in the Jimmy V. Classic). I remember winning the game. I remember us watching a Knicks game the night before and just having a good time."
• Elijah Johnson on the Garden: "I always thought the Garden was the best gym in the world and the fieldhouse second. The closer I got to college, I started to go with the fieldhouse over the Garden. I love the Garden, but the fieldhouse is more exciting for us."
• Next season, Kansas will play Michigan State on Nov. 13, 2012, at the Georgia Dome in Atlanta, while Duke will play Kentucky in that Champions Classic doubleheader. On Nov. 12, 2013, the venue will be the United Center in Chicago with Kansas playing Duke and Kentucky facing Michigan State. "Prior to Maui, I don't think we've had a group get together like this to generate more interest than this here," Self said of the Classic.
• Self on Calipari's strong recruiting: "He's a good recruiter. They (UK coaches) are hungry. They've got a great product to push. They've done real well. He's been able to do very well with the guys that are bonifide NBA talent guys, the one-and-done or two-and-done guys. They've got a guy who came back this year (Jones) that would have been a lottery pick last year. The thing about Cal that is a little bit misleading ... guys can get reputations as being real good recruiters. Rarely do really good recruiters get the reputation of being a really good coach. I think he's a really really good coach. He gets his teams to play hard and guard and play unselfish. It's the hardest thing to do with really young, talented guys.
"We've gone against them several times (in recruiting). They win their fair share. We've won a few. As long as he is there and really it doesn't make a difference who is there or here, we will go against each other recruiting-wise no question and they've done a great job."