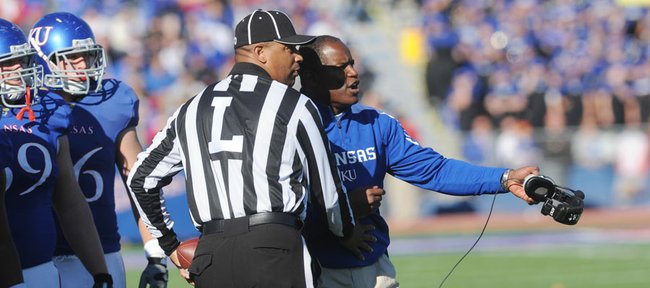 Podcast episode
Kansas coach Turner Gill talks after his team's 31-30 overtime loss to Baylor on Nov. 12, 2011.
KU vs. Baylor
A controversial call at the end of the first half resulted in a Baylor field goal and also left Kansas players and coaches baffled following BU's 31-30 overtime victory over KU on Saturday.
On the Bears' final offensive play before halftime, quarterback Robert Griffin III completed a pass to Tevin Reese for 28 yards to the KU 35 as time expired, but KU cornerback Anthony Davis was flagged for a 15-yard facemask penalty to give the Bears one additional untimed down.
"It wasn't a facemask at all. I clearly saw it," KU linebacker Steven Johnson said. "Sometimes, I'm just like, man. I don't know if the refs are out to get us or what, but I feel like in some situations ... it's just crazy.
"Sometimes it's that same ref. I've seen him all the time. I'm just like, 'Does he not like this school, this university or something?' I don't know, man. It's not in my control. I just continue to keep playing so we can pull it out."
BU kicker Aaron Jones followed with a 37-yard field goal to cut KU's lead to 17-3.
Because the game went to overtime, three points ended up being significant in the final outcome.
"From the (press) box, you can't see some things that you'd like to see," KU defensive coordinator Vic Shealy said. "The guys on the sideline, felt like he had ... they (officials) called a facemask, but it wasn't a facemask."
Shealy said that it appeared Davis may have had a hand toward the back of Reese's neck, meaning there was a possibility the official could have called a horse-collar tackle.
The words from the referee, though, stated that KU was being penalized for a facemask.
"If they call horse-collar (tackle), then both hands have to be at the back, and one was in front," Shealy said. "But you know what, the officials are in control of the game. It is what it is."
KU coach Turner Gill said the play was one of three or four that the Jayhawks would like to have back.
"I think it probably didn't go our way," Gill said. "I thought that it was a tough call. That's just the way it goes. There's nothing you can do about it. You've got to play and respond back. I thought our guys still came back and responded in the third quarter."
KU safety Bradley McDougald also said he didn't see a facemask from where he was on the field.
"I'm not going to question the referee," McDougald said. "This is his profession. This is what he does. If he saw facemask, we've got to live with it.
"Coaches do a great job of stating that we shouldn't even be anywhere close to give the referee a chance to make a facemask call, so that's just a small thing that ends up biting you in the end."