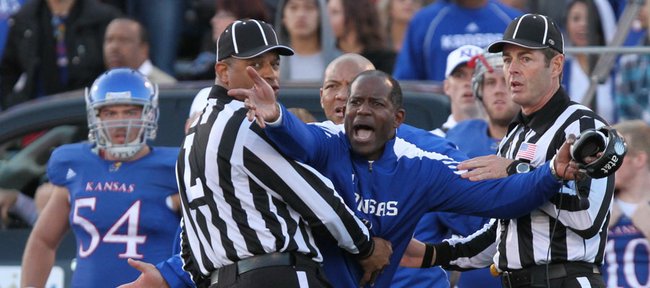 Podcast episode
Kansas coach Turner Gill talks after his team's 31-30 overtime loss to Baylor on Nov. 12, 2011.
KU vs. Baylor
With one more successful play from his offense Saturday, Kansas University football coach Turner Gill could have ended a seven-game losing streak, made irrelevant blowing a 21-point fourth-quarter lead and drawn praise for having had the guts to fly in the face of conventional wisdom.
It didn't work out for him, of course, and Baylor won Saturday's game in Memorial Stadium, 31-30, in overtime.
Not much has worked out during Gill's two years as the football coach.
Not the decision to leave the names off the jerseys. Not the word of the week.
Not the beginning, a 6-3 loss to FCS opponent North Dakota State in his debut.
Not the end, a losing streak of eight games and counting.
Not the blowouts — his teams have lost as many games by 42 points or more as they have won by any margin — and not the 5-17 record, 1-14 in Big 12 games.
Not even big leads — 20-0 against Texas Tech, 24-3 against Baylor — work out for Gill, who took Saturday's setback particularly hard.
One bold play could have made this one different.
After Jordan Webb beautifully executed in understated fashion a fake handoff to James Sims and the linebacker bit leaving open tight end Tim Biere for a touchdown on the KU offense's first overtime play, Gill had a decision to make. Kick the extra point, tie the score and give the ball back to Robert Griffin III, who had turned back into RG3 in the fourth quarter after three P.U. quarters.
Asked why he went for the two-point conversion, Gill answered, "Momentum."
Good answer, had he gone for it right away. But he called a timeout to set up a play. Think about what basketball coaches do — except for the most stubborn of them — to stop the other team's momentum. They call timeouts. Gill called one on his own team. And then Baylor coach Art Briles called one. So much time had passed since Biere's touchdown the sweat dried on the momentum. Time to kick the ball through the uprights and see if emerging star safety Bradley McDougald could come up with another big play.
Momentum has no official measurement, but it does have a point of origin. The momentum swings to a team when the sum of adrenaline in all the athletes on one squad flows far faster than the sum in all the athletes on the other. Adrenaline sharpens focus, enhances strength, instills endurance. It's fleeting. It had fled by the time Jordan Webb threw a fade to the double-covered Biere on a day Gill recruits Darrian Miller and Tony Pierson rushed for a combined 219 yards and a touchdown (Pierson) on 32 carries.
Miller accounted for 147 of those yards, but wasn't celebrating after the one-point loss. He knows it was Senior Day and he knows about the speculation swirling around his coach's job security.
"I really try to not pay so much attention to it because I feel like, on the priority list, it's not a team priority right now because we still have to finish our season and finish strong," Miller said of the latter factor. "I think coach Gill will be here for a long time because I think he does great things for this team, even off the field. That's one reason why I was so emotional today, not just wanting to play hard for the seniors, but also wanting to play hard for coach Gill. Because he's such a great person, he makes you want to play hard for him."
The tendency, be it with presidents, Army generals, football coaches, is to get blinded by numbers and want to deify the winners and demonize the losers. It's a mistake to do so. Gill illustrates that as well as anybody. Joe Paterno, we're learning, is a mixed bag of another sort for not slaying the monster in his midst. Some day, the rioting Penn State students will come to the realization that a winning record doesn't equate to a winning football program in all areas.
It's also a mistake to think that when Sheahon Zenger does what his job requires and lets Gill know he'll be fired with a $6 million parachute, that meeting will be harder on Gill than on Zenger, who truly believes there is more to coaching than winning and losing, but knows that winning has to be part of it. It'll be tougher on Zenger, no question. Gill is not a man defined by his job performance. Wherever his next stop takes him, be it in coaching or another profession, he'll go to bed every night knowing he just finished another day of treating people well, a trait that comes easily to him. Is that such a bad lot in life?