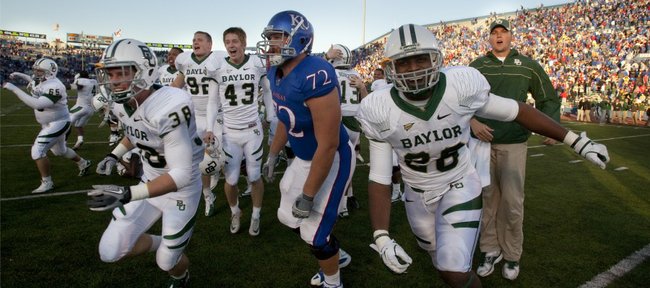 Podcast episode
Kansas coach Turner Gill talks after his team's 31-30 overtime loss to Baylor on Nov. 12, 2011.
KU vs. Baylor
The Kansas University football team played well for three quarters, fell apart for a fourth and, somehow, still had a chance to win Saturday afternoon against the No. 25 team in the BCS standings in front of 35,188 fans at Memorial Stadium.
After the game, none of that mattered. All anyone wanted to talk about was the final play in KU's latest loss, a failed two-point conversion attempt that helped Baylor survive with a 31-30 overtime victory.
"I'm gonna say this and I want everybody to understand," said senior lineman Jeff Spikes, one of 15 seniors who played the final home game of their careers on Saturday. "I support and I appreciate (KU coach Turner Gill) calling that two-point conversion because we could've easily come out and kicked the (extra point) and, to me, that showed that we are not no punks. We are not gonna sit down and let anyone run over us. You're gonna have to work for it. You're gonna have to beat me. I commend him and I appreciate that he gave us the opportunity to go out and take that victory. Even though we came up on the losing end, I appreciate it and I support it and I'm glad he did it."
That the Jayhawks (2-8 overall, 0-7 in Big 12 play) were even in that position in the first place seemed both right and wrong.
For starters, the Jayhawks — who entered Saturday as 20-point underdogs and ranked last in the country in total defense — were facing the nation's No. 2 offense. The fact that KU led, 24-3, going into the fourth quarter was somewhat surprising to say the least.
Once the final quarter began, everything that people are used to seeing from this team slowly started to creep back into play. Missed reads, dropped balls, blown assignments and a lack of confidence each reared its ugly head once again, as Baylor scored 28 straight points in a little more than 12 minutes to turn a 24-3 deficit into a 31-24 lead in overtime.
The play that sparked it all was a 49-yard touchdown run from BU quarterback Robert Griffin III which cut KU's lead to 24-10 with 11:45 to play in the fourth.
"I think our guys were still competing," KU defensive coordinator Vic Shealy said. "I don't think they got to the point where they were dysfunctional. I think they got to the point where maybe they weren't playing as confident because they were bracing for a mistake."
Gill, who spoke to the media with tears in his eyes following his team's eighth straight loss — and Gill's 17th setback in 22 tries at KU — said Griffin's ability to run changed the game.
Griffin, who came in averaging 396 yards of total offense, had just 49 yards rushing, 99 yards passing and no touchdowns through three quarters. He finished the game with 103 yards on the ground, 312 through the air and four touchdowns.
"That's the thing that's always scary," Gill said. "You kind of can hold him and contain him, but every time he took off running, that's when they got momentum, that's when they started making some plays."
Added KU defensive coordinator Vic Shealy: "These are good offenses. What happens is, you make a mistake, they make you look almost embarrassingly bad."
Not only was Griffin's natural play-making ability tough to handle, the Jayhawks also had to battle a batch of nerves once things got tight after Griffin's TD run.
"They changed the tempo," Shealy said. "They got really fast. We've seen fast tempo before, but they went from fast to really fast, and I don't know that we got settled back down after that."
Defensively, it didn't look like it. With the Bears' defense playing more energized every minute, the Jayhawks' defense reverted to bad habits. In a span of 4:36, Griffin tossed two long touchdowns that tied the game.
"That shouldn't happen," Gill said.
Despite the meltdown, KU still had two chances to win the game. The first came with the Jayhawks driving late in the fourth quarter. After starting at its own 39-yard line, KU, which ran for 296 yards in the loss, picked up a couple of first downs and reached the Baylor 39-yard line before disaster struck. A second-down pass from quarterback Jordan Webb intended for JaCorey Shepherd was knocked away by Baylor's Mike Hicks and fell into the arms of linebacker Elliot Coffey for an interception. Several Jayhawks said they thought Hicks hit Shepherd early, including Gill, who went wild on the sideline pleading with the refs.
"The referee makes the call," said Gill when asked about the possible pass interference. "I see it one way, but they have to make the call. That's the way it goes. Sometimes you get the call, sometimes you don't."
That set up the overtime, and after watching Baylor score first in just three plays, the Jayhawks answered with a TD strike from Webb to senior tight end Tim Biere on their first play of OT. That's when Gill called timeout and decided to go for two.
"I just felt the momentum," he said. "On that first-down call, we hit it real quick and I just thought that that would be the time to go for it. I just had an instinct at that particular time to go for it."
Gill said the Jayhawks had two plays called — both passes — and checked to throwing a fade to Biere in the corner of the end zone that was knocked away.
"They ended up playing a zone coverage," Gill said. "We thought they were gonna play man, and the corner who fell off on the outside receiver, that's the guy who made the play."
Asked if he thought about calling a running play considering the Jayhawks' success on the ground throughout the game, KU offensive coordinator Chuck Long was honest.
"I was thinking about it, but the passing game gives you so many more answers," he said. "(If you run it), they can bottle that thing up and then it takes a great play from the running back to get in there. It's not fourth-and-goal on the one. I'll go home tonight and think, 'Well, maybe I shoulda ran that, shoulda run that, shoulda called that. I'll do a coulda, shoulda, woulda tonight, for sure."
Although the final stretch of their latest loss allowed the Jayhawks to leave the field encouraged, the setback seemed to take a toll on this team like no other.
Shealy said the scene in the locker room was the lowest he'd seen during his time at Kansas. Several players agreed.
"Nobody said a word after the game," said senior linebacker Steven Johnson. "Usually you hear a little bit of whispers and stuff but it was just completely silent in there. It was even hard for coach Gill to even talk to us after the game."
Asked to relay Gill's message, Johnson smiled.
"He said he was proud of us," the co-captain said. "We played hard and played with passion and energy and gave effort all the time. Sometimes, it's like, I don't know, we're cursed or something. Sometimes calls just don't go our way. And it's just hard, we feel like we had a game and then it's like, 'What in the world is going on?'"
Added Spikes: "Our mood was just down. Silence. Nobody had anything to say because defeat hurts so bad."
Perhaps the reason this loss hurt so much was because nobody in crimson and blue could believe it happened. How could a team playing one of its best all-around games in years have a 24-3 lead with 12 minutes to play and lose?
"You gotta give credit to them," Spikes said. "They're the No. 2 offense in the country. Some things happen and you do think, 'Did that really happen?' It was kind of surreal."
Added Long: "We ran 91 plays and had the ball for 43 minutes. You can't ask for anything better than that. That's usually a winning formula."