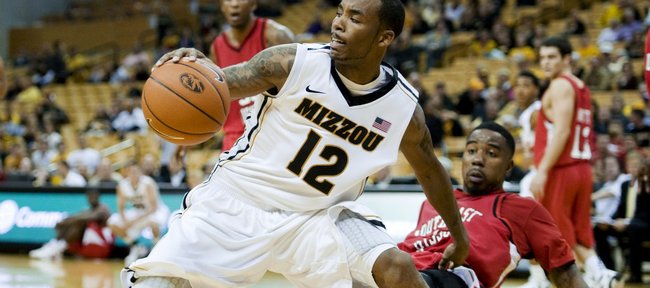 Columbia, Mo. — No. 25 Missouri led by only two at halftime of its opener, rushing shots and getting outrebounded. Players knew they'd be hearing from new coach Frank Haith.
"No chairs were thrown or anything," senior guard Kim English said. "But he challenged us."
Forward Ricardo Ratliffe, the team's best inside player, had one rebound.
"I knew I only had one rebound," Ratliffe said. "So, I was just waiting for him to say something about it."
The second half was more like it, less ragged, too, as the Tigers pulled away for an 83-68 victory over Southeast Missouri State on Friday night.
"We played a lot better," Haith said. "
Ratliffe and Marcus Denmon had 20 points apiece and Ratliffe stepped up with seven rebounds after the break. English had 19 points and hit four 3-pointers in the second half, going 5 for 9 from long distance.
"My teammates were finding me and those are the shots I make a thousand times a week," English said. "No euphoric feeling or anything."
English is coming off an inconsistent junior season. He averaged 10 points, a four-point drop-off from his sophomore season.
"I describe it as over," English said. "Last year happened, it's over and I'm just focusing on this year, trying to get better each day. Last year was last year, and it's out of my mind."
The Tigers have a 59-game home winning streak against nonconference opponents dating to the 2005-06 opener.
"Credit to SEMO, they came out with a lot of energy and they made a lot of shots early," Denmon said. "Some of those shots, as you continue to play defense, they start to come up a little short."
Tyler Stone, whose scholarship was pulled by Missouri after spending most of his freshman season on the bench, led Southeast Missouri State with 18 points and seven rebounds. Marcus Brister added 15 points and six assists.
Stone denied he had any extra incentive.
"Not at all, it was just another game," Stone said. "Just trying to get this win. I knew I would come back to Missouri, so that didn't mean anything to me."
Missouri players were impressed with Stone's play. He had 22 points in 12 games as a freshman at Missouri in 2009-10.
"He looked good in film all week," English said. "He grew. He got older,"
Missouri entered the season ranked for the first time since 2003-04 coming off three straight NCAA tournament bids, although Haith is under a bit of a cloud facing possible NCAA sanctions dating to his time at Miami.
The Tigers lack height without 6-foot-9 Laurence Bowers, out for the year with a knee injury, and often had four guards on the floor, making it tougher to put Southeast Missouri State away.
Southeast Missouri State was picked to finish in the middle of the pack in the Ohio Valley Conference, is 0-6 against Missouri and 0-8 against ranked teams and has lost six straight openers. Plus, starting forward Leon Powell didn't play because of a knee injury.
"I couldn't be more proud of our guys," coach Dickey Nutt said. "They fought hard. The guys who played, they gave me every ounce of effort."
The Redhawks battled on even terms throughout the first half, opening a quick 7-0 lead and shooting 52 percent. They led by six with about 4 1/2 minutes to go before Missouri finished on a 12-4 run for a 38-36 lead, half the points coming on free throws and the go-ahead a basket coming on Phil Pressey's layup with 1.7 seconds left.
Missouri opened the second half on a 17-6 run, including two of English's 3-pointers, and kept the game at arm's length the rest of the way.