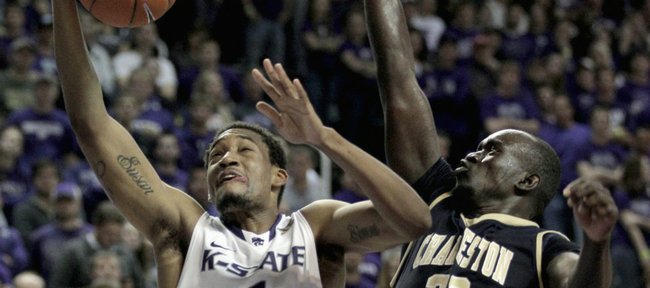 KSU vs. Charleston Southern
Manhattan — Frank Martin didn't yell. He didn't tear down the walls of the locker room at halftime, though just about everyone inside Bramlage Coliseum on Friday night expected just that.
No, the Kansas State coach calmly made some adjustments, and then sent his players back onto the floor to figure things out for themselves.
They did just in time.
Rodney McGruder scored 18 points to lead a big second-half charge, Will Spradling was solid from the foul line and Kansas State held off Charleston Southern 72-67 on Friday night, surviving a big scare from the school from the Big South.
"These guys have got pride," Martin said afterward. "They didn't need me kicking them in the butt to make them play better or harder."
Spradling finished with 15 points, and Jordan Henriquez and Shane Southwell each added 11 for the Wildcats, who trailed by as many as 15 in the second half before using a big run and some stingy half-court pressure defense to win their ninth consecutive season opener.
"We knew what we had to do," Spradling said. "We had to get out and defend."
Jeremy Sexton scored 19 points and freshman Saah Nimley had 13 for the Buccaneers (0-1), who looked nothing like a team coming off a mediocre 16-16 finish last season.
Of course, Kansas State looked nothing like an NCAA tournament-caliber team, either.
Spradling's 3-pointer from in front of the K-State bench with 2:24 remaining made it 64-62, and McGruder's basket pushed the lead to four. Spradling made six straight free throws down the stretch to seal the victory, allowing the home crowd to heave a sigh of relief.
The Wildcats, playing without Jamar Samuels while he serves a three-game suspension for a violation of team rules, struggled in just about every aspect of the game. They wound up shooting 2 for 16 from the 3-point line, committed 19 turnovers and were out-rebounded 48-39.
It was a rough way to start the post-Jacob Pullen era.
Pullen, who now plays for Angelico Biella of the Italian League, graduated after a stellar career in which he set school records for scoring (2,132 points), games played (135), double-digit scoring games (105), 3-point field goals (299) and steals (210). Pullen helped the Wildcats reach three NCAA tournaments and win 95 games during his four-year run in Manhattan.
The Wildcats have a long way to go if they want to achieve that kind of success this season.
"These guys have pride," Martin said matter-of-factly. "You're never perfect."
Kansas State looked like it would be in for an easy night midway through the first half, when Spradling converted a three-point play and Southwell's free throw made it 24-16.
That's when the parade of turnovers and missed shots started.
The Wildcats made just one of their next 15 field goal attempts, committed three turnovers and even missed their only two free throws during a nearly 7-minute stretch, one that had Martin sitting on the sideline with his chin tucked glumly in his hand.
Charleston Southern took advantage at the other end, rattling off a 19-2 run.
Sexton started it with a pair of free throws, and later on, Arlon Harper — a native of Emporia, Kan. — drained a 3-pointer while scoring seven straight. Nimley finished off the run when he scored with 4:10 left in the first half, giving the Buccaneers a 35-26 lead.
"This group has been fearless. They haven't blinked an eye at anything," Charleston Southern coach Barclay Radebaugh said.
The lead was 49-35 at halftime, and it swelled to 52-37 on a free throw by Kelvin Martin early in the second half. But the Wildcats finally went on their big run, keyed largely by their ball pressure, creating five turnovers in seven possessions and scoring 12 unanswered points.
By the time McGruder stripped Chris Grier of the ball and scored on the fast break, Kansas State had climbed within 52-49 with 13:17 remaining, and Radebaugh was forced to call timeout as the crowd of 12,528 at Bramlage Coliseum stood and roared.
Still, the game wasn't over until the closing minutes, when Spradling finally hit his go-ahead 3-pointer, McGruder came through on both ends of the court and Spradling put it away from the line.
"I'll take ugly wins before any hard, well-played loss. We played Kansas here two years ago, nose-to-nose. We played, we did everything, and we lost. That's an awful feeling," Martin said nearly an hour after the game. "Bad wins, we get to practice tomorrow, we get to play again on Monday.
"We've got to use this as a learning situation," he said. "They're going to figure out a way to buckle down."