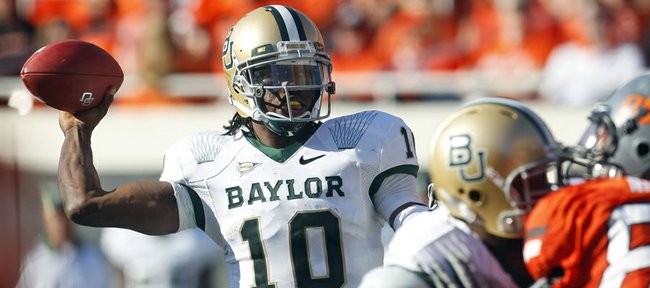 Kansas University senior Isiah Barfield isn't afraid to admit it. Although he chooses to play with the Jayhawks during dynasty mode on the popular NCAA Football 12 video game, his team of choice for online battles and one-game scenarios is KU's opponent this weekend — Baylor.
There's one reason, and his name is Robert Griffin III.
"I know what he can do," joked Barfield of the Bears' dynamic quarterback, who ranks second in the nation in total offense. "I've played against him before, and I know his capabilities."
With Barfield being somewhat of an expert on all things RG3, he seemed like the obvious choice to answer the question of which version is better, the real life Griffin or the EA Sports clone?
"I'd have to say in person because, in the video game, if a player has 80 speed, they're gonna catch him," Barfield said. "But if you've got a fast player out on the football field, 50 percent of the time they're not gonna catch him. In real life, he's a lot better than the video game."
Senior Day motivating
While Saturday's 1 p.m. kickoff against Baylor at Memorial Stadium will mark the final home game in the careers of 15 KU seniors, the expected emotions of the day actually have had a bigger impact on several KU underclassmen.
"We don't want to send those guys out of here with a loss," sophomore cornerback Tyler Patmon said. "It's big to them, so in turn that makes it big to us."
Asked what he would remember most about the senior class, Patmon pointed to the members' ability to teach.
"It's a class full of great leaders," he said. "When I was a freshman, I learned a lot from those guys that are graduating right now."
Added KU coach Turner Gill of the group: "In the two years I've been here and seeing those guys who have really contacted us as coaches … they come into our offices. They gather their own position groups on theirown and bring them in at different times. They do the extra things. This group of seniors has continued to keep this team close even through the unfortunate circumstances as far as where we're at in our season. This team is still very close. I give a lot of the credit to the seniors."
TDs a must vs. BU
Although Kansas is averaging a shade under 25 points per game this season, several Jayhawks talked this week about the importance of putting up points Saturday to keep up with Baylor, which averages 42 points per game.
"Offensively, we have to score touchdowns," Gill said. "You can't kick field goals and expect to beat Baylor."
Offensive coordinator Chuck Long agreed.

"The Iowa State game was a field-position game, and it came down to every little play, including the field goals," Long said. "But this game, based on what they've done, we have to score points."
Asked if the need to light up the scoreboard could change his mind-set when faced with third- and fourth-down decisions deep in Baylor territory, Gill hinted at a different approach.
"It could," he said. "You state what you're going to do, and, in most cases, I will follow that. But there's always extenuating circumstances, and you gotta make some decisions, as a head coach, to go for it, not to go for it, field goals. Sometimes you gotta go kick a field goal to take something positive out of (a drive), but I know in the back of my mind that we gotta score some touchdowns."
KU-Baylor by the numbers
Baylor leads the all-time series, 6-4, including a 4-3 mark during games played as members of the same conference. All four of the Jayhawks' victories against the Bears have come in Lawrence, the last of which occurred in 2007, when 20th-ranked KU topped BU, 58-10. Baylor enters Saturday ranked No. 2 in the nation in total offense at 567 yards per game. That total includes 363 yards per game through the air (fifth in the nation) and 204 yards per game on the ground (22nd). Kansas ranks 90th in total offense (353), 94th in pass offense (188) and 48th in rush offense (165).
Defensively, the two teams are a little more similar, at least in the rankings. KU sits dead last in the FBS in total defense (541) and rushing defense (257) and comes in 114th in pass defense (284). The Bears rank 113th in total defense (466), including 109th against the run (212) and 96th against the pass (254).
OL Marrongelli honored
Junior offensive lineman Trevor Marrongelli has been named to the Capital One CoSIDA Academic All-District 7 football team.
Marrongelli, KU's left guard who hails from Austin, Texas, owns a 3.75 grade-point average in finance and has started all nine games this season.
With the honor, the two-time Academic All-Big 12 selection becomes eligible for Academic All-American honors, which will be announced later this month. The Academic All-Big 12 team will also be selected in the coming weeks.
Rivera signs with Pats
Former KU linebacker Mike Rivera, a member of the Jayhawks' 2008 Orange Bowl championship team and 2009 graduate, signed a free-agent contract with the New England Patriots, the club announced Wednesday.
Rivera, a Shawnee Mission Northwest High graduate who spent time with the Chicago Bears, Tennessee Titans, Green Bay Packers and Miami Dolphins, will be placed on the Patriots' practice squad.
As a member of the practice squad, Rivera can be activated and added to the 53-man roster at any time. Players can be promoted to the active roster of any team. They have free-agent status and can sign with any team without compensation to the original team.