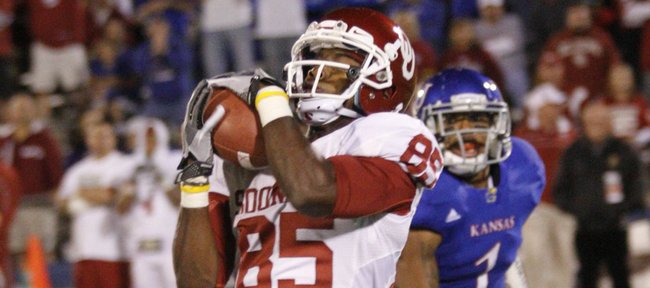 Norman, Okla. — Oklahoma coach Bob Stoops is holding out hope that a season-ending knee injury to All-American receiver Ryan Broyles won't hurt him when it comes to the NFL Draft or postseason awards.
Broyles, who is the NCAA record-holder with 349 career receptions and who ranks second all-time with 4,586 receiving yards, tore the anterior cruciate ligament in his left knee Saturday against Texas A&M.;
"It's very unfortunate and we'll see. I believe he has a huge body of work that's impressive, that I've already heard from one general manager that has said that: 'Look, just missing these last games, obviously we know what he's capable of,'" Stoops said Tuesday.
"There's a lot of that that'll be positive for him and then how he gets through the surgery and how he reacts probably leading up to the draft, he won't be able to perform but obviously they'll be able to check it out that it's progressing just as it should and hopefully that will still give him a good, strong opportunity."
Broyles currently ranks second in the nation with 128.6 receiving yards per game and fourth with 9.2 receptions per game. He was a finalist for the Biletnikoff Award, given to the nation's top receiver, last season when he led the nation with 131 catches.
"I would think you look at his number of receptions, his yards. He's leading the country right up until this game in yards, so hopefully the All-America teams and the Biletnikoff, I would think sure he'd still be considered," Stoops said.
Even more important for the Sooners will be finding ways during their off week will be trying to find ways to replace Broyles' production.
"He plays everywhere and don't forget he's leading the Big 12 in punt returns, too," Stoops said. "So, it's hard to replace a guy that ... he doesn't just play in the slot, he plays in different formations outside too."
Stoops said role players such as Jaz Reynolds, Trey Franks and freshman Kameel Jackson will take on more responsibility. The team will figure out its best options during practice this week and leading up to a game at Baylor on Nov. 19.
"You can focus but still have feelings and be sick about something for a young man who loses his opportunity to play," Stoops said. "When we go to practice today, we'll be focused on, 'All right, what are we going to do about it?'
"But that doesn't take away the personal feelings for all our players when these things happen."
The loss of Broyles will also have an impact on quarterback Landry Jones, who has been able to count on Broyles ever since he replaced an injured Heisman Trophy winner Sam Bradford during the 2009 season.
"It's fair to say whenever you feel the pressure or you don't feel you have the time, it's pretty easy to go, 'I know the first guy I'm looking for,' because he's usually open," Stoops said. "It'll be an adjustment, I'm sure."
Stoops said it's possible center Ben Habern, who returned in a limited role after missing four weeks with a broken forearm, could be able to start against Baylor. Linebacker Tom Wort's practice time will be limited by a sprained ankle, and he'll be re-evaluated as the game gets closer.
The open week will also provide an opportunity for the Sooners to expand on their short-yardage package featuring third-string quarterback Blake Bell primarily as a powerful running threat. It debuted two weeks ago against Kansas State and was expanded against A&M.;
"This will be a great week to give it some more attention and to expand on it a little bit and to get everyone more and more comfortable with it," Stoops said. "It's really been an advantage in third-down efficiency and red zone scores, and I think there's more coming."