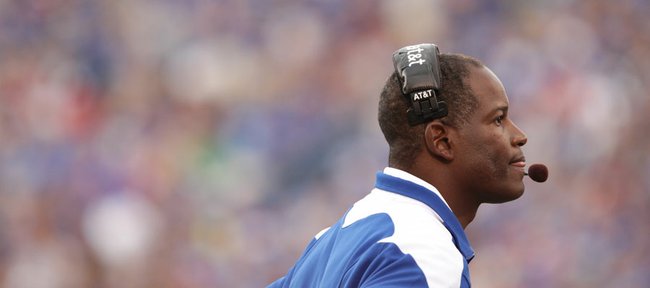 Sunday, after weeks of delaying, Missouri University officially announced its intention to join the SEC in 2012. Monday, on the Big 12 coaches teleconference, Gill echoed the comments shared by men's basketball coach Bill Self, athletic director Sheahon Zenger and Chancellor Bernadette Gray-Little.
"I don't see us playing them in the future," Gill said of Mizzou. "I think the rivalry between Kansas and Missouri would be something I think belongs in the Big 12 Conference."
Gov. Sam Brownback also weighed in with his thoughts Monday and said he was sorry to see the Tigers go but that he didn't think the loss of MU would harm the Big 12.
"It will ultimately be the strongest conference in the country," Brownback said of the Big 12.
Baylor opens as favorite
When Baylor comes to Memorial Stadium for a 1 p.m. kickoff Saturday, it will mark the ninth-straight game in which the KU football team will take the field as the underdog. The Bears (5-3 overall, 2-6 Big 12) opened as 17.5-point favorites over the Jayhawks (2-7, 0-6) and, as of late Monday, were already up to 20-point favorites in some spots.
This week's match-up with Baylor will not be televised and will be the last home game in the careers of 15 KU seniors.