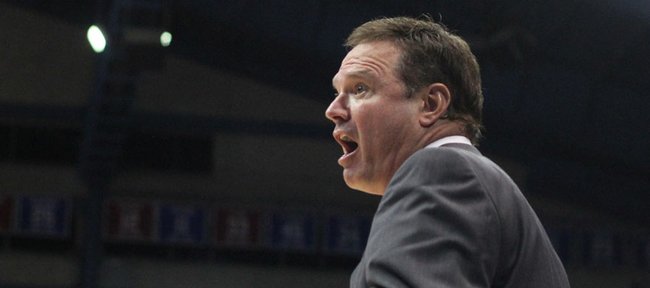 Kansas University basketball coach Bill Self was asked again Monday about what KU's fans think about Missouri leaving the Big 12 for the SEC.
"I don't really talk to fans, but the ones that have talked to me, they couldn't care less," he said. "Our fans aren't going to determine what we do, but Missouri isn't going to determine anything we do either (as far as scheduling games in the future). I said this yesterday. This isn't being critical. We wish them the best. I hope that they're happy where they're at. There are no ill feelings about them leaving. This isn't like Oklahoma or Texas leaving, either — a school that could break the league up. I'm happy with our league and wish they wanted to be a part of it, but I'm not going to cry because they're leaving at all. They're doing what they want to do, but certainly when they do that, then people should understand that we get to do what we want to do, too. I don't think anyone in our administration would be too excited about playing them right now at all after this year. We still get two more times to play them. That will be good."
Naismith list
KU junior Thomas Robinson has been named to the 2011-12 Naismith Trophy preseason watch list, the Atlanta Tipoff Club announced Monday night. The Naismith Trophy, which goes to the player of the year, will be awarded at the 2012 Final Four in New Orleans. KU assistant coach Danny Manning won the award in 1988. Other Big 12 players on the list: Marcus Denmon, Missouri; Perry Jones III and Quincy Miller, Baylor; and Khris Middleton, Texas A&M.;
Triple-double talk
Jeff Withey's triple-double against Pittsburg State received a lot of attention last week. "I've gotten some people teasing me about the triple-double being in an exhibition game," he said. "I didn't think too much of it anyways. It's the beginning of the season. I want to do it again. It definitely helps my confidence. I'm trying to build off that and continue with that momentum and bring that style of play into this next game."
Tiger talk
Fort Hays State fell to Kansas State, 90-60, on Sunday in Manhattan. Tyrone Phillips, a 6-foot-1 junior from Portland, scored 16 points, and Lance Russell, a 6-4 junior from Wichita, 12 points for FHSU, picked to finish third in the 11-team MIAA.
Recruiting
Luke Cothron, a 6-8, 220-pound freshman forward from College of Southern Idaho, may make an official recruiting visit to KU in December, Cothron told jayhawkslant.com. He said he's heard from KU, Memphis and UNLV. Cothron, the No. 45 ranked player in the 2010 class, originally signed with Auburn before heading to juco. ... No. 56-rated Andrew White, a 6-6 senior small forward from Miller School in Chester, Va., who has visited KU, West Virginia, Texas and Louisville, could sign with a school later this week or wait until the spring. He's pondering a visit to Georgetown. ... No. 33-rated Tony Parker, a 6-9 center from Miller Grove High in Lithonia, Ga., who has heard from KU, said he will sign with a school in April.
Birthday boy
KU tonight will recognize the 150th birthday of James Naismith, the inventor of basketball.