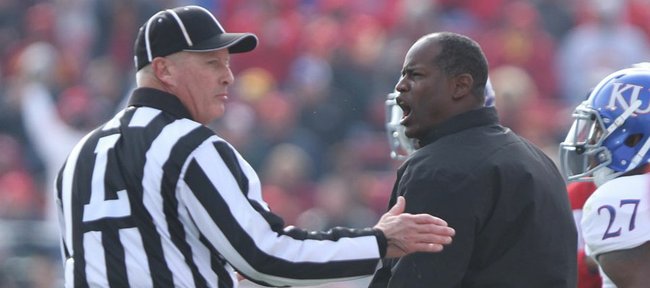 Saturday's 13-10 loss to Iowa State made it impossible for the Kansas University football team to become bowl-eligible this season by earning at least six victories.
That harsh reality made KU's seventh straight loss a little tougher to handle.
"Obviously, that was our big goal for the year," sophomore quarterback Jordan Webb said of receiving a bowl bid. "But we have a chance to ultimately win November. We're gonna come out and just take it one game at a time. That's all you can do at this point in the season. Not all is lost."
For the first time in weeks, the Jayhawks were within striking distance late in the fourth quarter and actually had a chance to put together a drive to win. They came up short, but KU coach Turner Gill said he sensed an extra dose of excitement on the sideline in final few minutes.
"I think guys were in tune throughout the football game," Gill said. "I think that's what happens when you have a close game throughout. But I think our guys have always stayed in tune. They've always competed even though the score may have been one way or the other. And they kept on believing that we were gonna get the job done."
Junior co-captain Toben Opurum said he didn't notice much difference in the way he and his teammates competed just because the game was close.
"We could be down by three points or we could be down by 20 points, and I'm gonna give the same effort that I give regardless of the score," Opurum said. "And I think that speaks for the rest of the team."
Even as the losses began to pile up and the season began to head south, the Jayhawks pointed to their overall goals still being attainable and continued to push forward with a positive attitude. Now that one goal — a bowl berth — must be struck from the list, it will be interesting to see how the team responds with three games to play. Gill said he expected the same kind of effort.
"I guess time will tell," he said. "We've got three games left to try to finish strong and finish things on a positive note."
Running game returns
Led by a career-high 70 yards from freshman Darrian Miller, the KU running game delivered its best performance in five games. KU's 174 yards rushing were the most since the opening game of Big 12 play, when the Jayhawks ran for 249 yards in a 45-34 loss to Texas Tech.
"I'm definitely happy we got back into our groove," Miller said. "The backs were making plays and all of us were feeding off of each other. It's put us in a good direction for the following weeks to keep on running hard."
Miller received six more carries than sophomore starter James Sims, who lost a fumble midway through the loss.
"We've talked about trying to get a few more touches for Darrian Miller," Gill said. "James has been a very good back. I wouldn't say he's a fumbler. It's unfortunate that happened. But he's a good football player, and he's still gonna be a major factor in the rest of our football season."
Gill said Miller's ability to run in traffic was what inspired the coaching staff to find more carries for him.
"Both of them have been productive," Gill said. "But Miller may have been a little more productive as far as contact made on him. He's actually made the most yards after contact. But they're both gonna continue to be used."