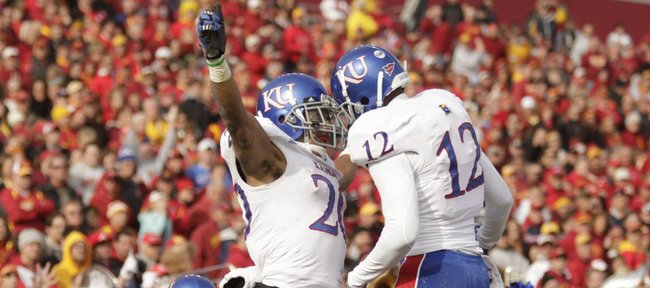 Podcast episode
Kansas coach Turner Gill talks to reporters following the Jayhawks' 13-10 loss to Iowa State on Nov. 5, 2011.
KU vs. Iowa State
Ames, Iowa — Kansas University sophomore Ron Doherty, a 6-foot, 206-pound kicker from Klein, Texas, made the first field goal of his college career during Saturday's 13-10 loss at Iowa State.
Doherty's kick, a 19-yarder that tied the game at 10 in the third quarter, came after KU coach Turner Gill elected to bench starting place kicker Alex Mueller. Mueller missed field goals of 36 and 49 yards, running his season total to 3-for-8, including 1-of-6 from beyond 30 yards.
Doherty said he was given no advance notice about his place-kicking debut.
"I'm always ready," Doherty said. "(Special teams coordinator Aaron) Stamn just told me just to make sure I'm ready to go in at any point in time. It was a great feeling to get the first field goal of my career in college under my belt."
Asked if the chip-shot try helped calm his nerves, Doherty was honest.
"That made it a little easier for me," he said. "It was a good way to start it off."
While Mueller missed the 36-yard attempt wide left, the longer one was partially blocked. Gill said he chose to attempt the 49-yarder because Mueller had shown he could make it in warm-ups.
"He was in his range and we (had the opportunity) to put points on the board," Gill said. "We definitely didn't want to punt it, and we definitely thought he was in his range to make it."
Gill said he and his staff would evaluate KU's kicking game this week, but the coach did not tip his hand about which kicker would handle field goals.
Doherty, KU's first-string punter, also handled kickoff duties in the second half Saturday and delivered KU's first touchback of the season.
Trickery Dickory Doc
The KU offense attempted a variety of trick plays during the loss to Iowa State. KU dialed up several reverse runs and even attempted a triple reverse on one play. Gill said that was by design.
"We talked about calling some of those plays when the opportunity presented itself," Gill said. "In this ballgame, we moved the ball a little bit better so that helps you to have more plays called."
Top tacklers
Saturday's game featured the top two tacklers in the Big 12 Conference, KU linebacker Steven Johnson (94) and Iowa State linebacker Jake Knott (70). Knott, who finished with 10 tackles to lead the Cyclones, got the better of the head-to-head match-up on Saturday. Johnson finished with five.
Junior safety Bradley McDougald led the Jayhawks with 11 tackles and Keeston Terry, Darius Willis and Greg Brown each added eight.
Jayhawks reacquainted with lead
The 22-yard touchdown run by D.J. Beshears at the 2:02 mark in the first quarter gave the Jayhawks their first lead since forging ahead, 7-0, at Oklahoma State on Oct. 8.
The Jayhawks (2-7 overall and 0-6 in Big 12 play) went on to give up 56 consecutive points to OSU before falling, 70-28, and then trailed from start to finish in losses to Oklahoma, Kansas State and Texas.
Freshmen grounded
Freshman running back Tony Pierson sat out Saturday's game because of injury and freshman wide receiver JaCorey Shepherd played sparingly and was not targeted in the Jayhawks' passing game.
"Shepherd was just by our design," Gill said. "Nothing's wrong with him. Pierson has a little bit of a hand (injury), so we didn't feel comfortable with him playing. But I expect him to be back this week."
Hey, Mr. D.J.
Gill said the coaching staff made a concentrated effort to get junior wide receiver D.J. Beshears more involved in the offense on Saturday.
"That was our design," Gill said. "We talked about that this week, making sure he got eight to 10 touches. We wanted to make sure we got him more touches than we had been getting him."
Beshears finished with three carries for 28 yards — including a 22-yard touchdown run, the longest of his career — and led KU with five receptions for 45 yards.
This and that ...
The Jayhawks lost Saturday's opening coin toss but received the ball to start the game when Iowa State deferred its choice to the second half. It marked the fourth time in nine weeks that KU lost the toss. ... Junior linebacker Malcolm Walker recorded the first sack of his career. ... Sophomore wide receiver Christian Matthews, who recorded a career-high three receptions, also attempted the first pass of his career on a reverse play in the second quarter. ... Temperature at kickoff was 47 degrees, under cloudy skies with winds at 16 miles per hour from the southeast.