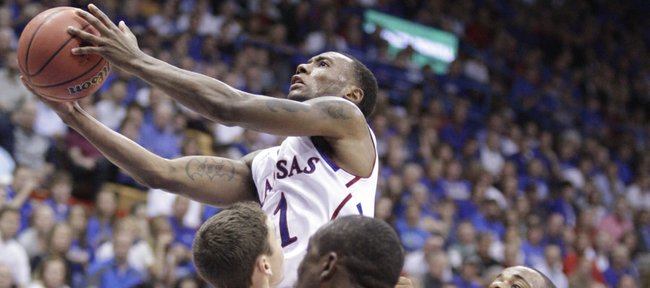 Naadir Tharpe has been briefed on exactly what is expected of him as a freshman point guard at Kansas University.
"Coach (Bill Self) told me, 'You've got to get to the paint, find your open players,' which I did pretty well," Tharpe, a 5-foot-11, 170-pounder from Worcester, Mass., said after dishing eight assists against nine turnovers and scoring 12 points in the Jayhawks' 84-55 exhibition victory over Pittsburg State on Tuesday in Allen Fieldhouse. "And 'knock down the shot when you're open,' he said for me to do, because he feels I'm a great shooter.
"I feel I'm a great shooter myself," added Tharpe, who hit four of nine shots, including two of three three-pointers.
Tharpe had four assists and seven turnovers the first half of his KU debut — just two turnovers the second half.
"I was a little antsy. I wanted to do a little bit too much," Tharpe said. "Once I settled down, I played my game, and it turned out well, and we did well together."
Tharpe realizes nine turnovers are too many for any game.
"I probably had five of them that were bad turnovers, like stupid, in the passing lane, just being too antsy and not being aggressive," Tharpe said. "They'd be in the passing lane, then they'd tip it, and we'd tip the ball out of bounds. Just stupid plays like that. That's my fault. I'm going to work on that, and I'm going to be able to get better."
Of course, he'll be watched closely by Self, who challenged Tharpe at halftime by saying: "Seven damn turnovers. C'mon, you're a better player than that."
"He's hard on me because he expects a lot out of me. He wants me to be a great player," said Tharpe, who averaged 13 points and six assists per game last season for Brewster Academy in Wolfeboro, N.H. "I knew that was coming from the start. I didn't come in here thinking it was going to be a cakewalk, because anywhere I went, it wasn't going to be a cakewalk."
Tharpe played 34 minutes in his debut on a night Tyshawn Taylor and Elijah Johnson sat out for violating team rules. The guard duo will also miss Tuesday's game against Fort Hays State before being reinstated for the Nov. 11 regular-season opener against Towson,
"They were talking to me throughout the whole game," Tharpe said. "Sometimes I would look at them, see what they have to say, see what I was doing wrong, see what I was doing right. The whole time, they just kept telling me, 'Be aggressive, and if you are aggressive you aren't going to be able to make turnovers.' So that was really good. I am going to be able to play no matter what.
"I would rather them be on the floor with me" the confident Tharpe added. "I wouldn't have had as many turnovers because I wouldn't have to bring the ball up so much. I'm definitely waiting for them to get back. I don't feel like them being gone is a good thing at all."
Of the overall first-game experience, Tharpe said: "It was exciting. The crowd, the team. I just felt like it was a serious blessing to be here and playing in Allen Fieldhouse."
Recruiting: Chris Washburn, a 6-9, 235-pound senior power forward from South Grand Prairie (Texas) High, is interested in KU, Texas A&M; and UTEP, Rivals.com reported Wednesday. Washburn is ranked No. 111 in the Class of 2012. ... Former St. John's signee JaKarr Sampson, a 6-8 senior forward who is attending Brewster Academy this school year, recently visited Baylor, Zagsblog.com reports. He has also heard from KU, Pitt, Florida, Providence, Miami and others. He also is still considering St. John's. He was ranked No. 51 in the Class of 2011, enrolling at prep school for academic reasons.