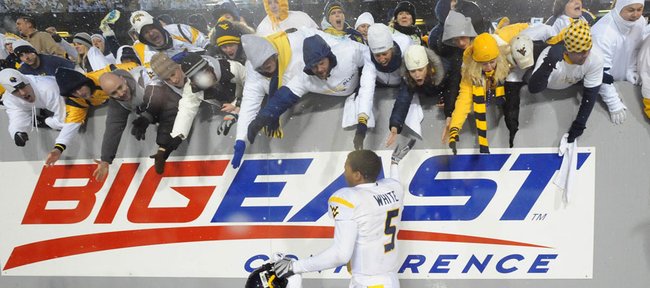 Morgantown, W.Va. — West Virginia University filed a lawsuit Monday seeking an immediate divorce from the Big East so it can become a member of the Big 12 before the 2012 football season.
The Big 12 announced West Virginia's acceptance Friday, but the Big East said it would hold the Mountaineers to a provision in the conference bylaws that requires notice of 27 months before a school can withdraw.
The lawsuit asks the Monongalia County Circuit Court to declare the bylaws invalid, claiming that the Big East breached its fiduciary duty to West Virginia by failing to maintain a balance between football-playing and non-football members.
The complaint, which asks for a jury trial, also alleges that the Big East agreed to West Virginia's immediate withdrawal by accepting a $2.5 million down payment on its $5 million exit fee.
"Absent a Court order permanently enjoining the Big East from enforcing the 27-month notice provision against WVU, WVU has no adequate remedy at law to protect its interests and will suffer continuing and irreparable damages and injury," the lawsuit says.
Big East Commissioner John Marinatto has said West Virginia is not eligible to join the Big 12 until July 1, 2014.
"We are disappointed that West Virginia has adopted this strategy and cannot imagine why it believes it does not have to respect and honor the bylaws it agreed to as a member of the Big East. Based on an initial review of the lawsuit, it is clear that the allegations and claims in it are false and inaccurate. Certainly there is nothing in it that would justify WVU's not fulfilling its obligations. To put it simply, a contract is a contract," Marinatto said in a statement.
"Once we have reviewed the filing, we will explore all our legal options and will act vigorously to ensure that WVU lives up to all its obligations to our conference. In the meantime, this lawsuit will not interfere in any way with our ongoing efforts to strengthen and expand the Big East."
The lawsuit is the latest development in a flurry of conference realignment activity this fall. Syracuse and Pittsburgh withdrew from the Big East in September to join the Atlantic Coast Conference.
TCU accepted an invitation to join the Big East in September but switched to the Big 12 in October and was not required to honor the 27-month notice requirement.