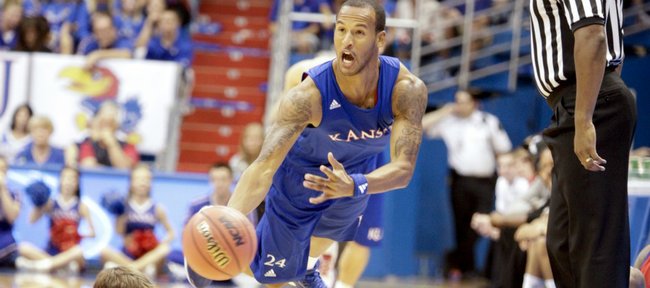 Kansas University's basketball team — which has won 37 consecutive exhibition games overall and 35 in a row in Allen Fieldhouse — will be taking nothing for granted in its game against Pittsburg State tonight.
"I think especially with the absences that we will have, we will be taking them very seriously," 6-foot-6 senior Conner Teahan said.
The 212-pound former walk-on is ticketed to start the 7 p.m. contest at either small forward or power forward following the two-game suspensions of Tyshawn Taylor and Elijah Johnson, seasonlong ineligibilities of Ben McLemore and Jamari Traylor and injury to Thomas Robinson.
"I have a couple of post moves. We'll see how they work," Teahan added with a smile.
The Jayhawks do not figure to be joking around during warmups prior to this exhibition against a Div. II school. Several players who did not figure to be counted on heavily this year figure to play meaningful minutes tonight, which should get the adrenaline pumping. KU has just eight recruited scholarship players.
"Our numbers are so small, everybody's got to play anyway. If you take two or three guys off the starting lineup, we're going to be playing with walk-ons tomorrow," KU coach Bill Self said Monday.
"I'm not talking about the ones we put on scholarship (Teahan, Justin Wesley this year). I'm talking about Jordan (Juenemann) and Niko (Roberts). Those guys are going to get in the game. That won't be the same team that will be playing in the Garden (against Kentucky on Nov. 15) unless we have a lot of injuries. It will give those guys an opportunity."
Self said Naadir Tharpe, Teahan and Travis Releford would start on the perimeter and Jeff Withey at center. The other starting slot would be manned by either Thomas Robinson (hyperextended knee) or Wesley.
Believe it or not, Roberts, a sophomore walk-on, and Juenemann, a senior walk-on, are Tharpe's backups at the point.
"Those guys play against Tyshawn and Elijah every day," Withey said of the point-guard trio. "They are getting good reps. They are going against the best every day so they are going to be fine."
Juenemann concedes that getting in the game in the first half, "would be a first, for sure. I was talking to my father last night. He said, 'I heard Tyshawn and Elijah can't play.' He was acting real calm. Then he said, 'Are you ready for this?' I said, 'Yeah, dad, I think so.' I have faith in my teammates, and they have faith in me."
Releford might need to produce big-time on both ends if KU is to avoid its first exhibition loss since a since a 101-93 setback to Lisbonne Benfica on Dec. 28, 1995, in France. KU's last exhibition loss at home was 93-82 to Australia in 1993.
Self's teams are 23-0 in exhibitions in the last nine years.
"It's going to be a different pressure for me being able to have this role and be the guy to look to score," Releford said. "I'm not going to go into the game saying, 'Oh, I have to score for us to win,' but I'm going to be very aggressive. I'm very excited. I've waited going on four years now. Now that I finally get my chance, I'm going to try to make the most of it."
Self and the fans likely won't know what to expect against a Pitt State team that returns four starters off a 13-13 squad.
"My expectations will change with this," Self said. "If you don't have a healthy Thomas and if you don't have your starting backcourt, that's 60 percent of your team. Tyshawn and Elijah need to play at least 32, 35 minutes a game each. It'll be a totally different look. My expectations are we play with some energy, enthusiasm and see how newcomers react when they have to play a lot."
• Robinson hurt his knee at practice last Thursday.
"I'm not going to put him out there unless the training staff tells us that we should put him out there. He's not close to 100 percent. He's probably a week away from that," Self said.
• Self on the suspensions of Johnson and Taylor, which will not involve any regular-season games:
"In coaching, you have certain rules and guidelines you follow regardless of the time of year it is," Self said. "I told those guys back during the offseason I was going to sit them during the exhibition games (for violating team rules). I am not doing it to embarrass them, nothing like that. This is what needs to be done. I warned them, they did it, that's the penalty. I'm not going to go back on that. We're here to win the battle over time, not to appease the situation to make it seem like something didn't occur. These guys have been great. It's unbelievable how they've been from an effort standpoint, discipline standpoint, responsibility standpoint, so maybe the discipline is actually helping them. So I'm not going to apologize for that at all."