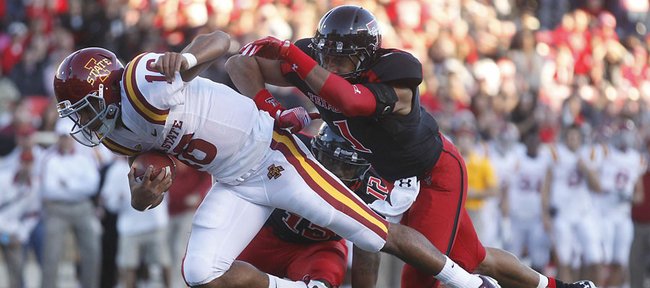 With four games remaining in the season, Iowa State University's football team needs two more victories to reach six wins and become bowl-eligible.
With three of those games coming against No. 3 Oklahoma State, No. 7 Oklahoma and No. 17 Kansas State — the OU and KSU games are on the road — this week's battle with Kansas, which must win all four of its remaining games to be in a similar position, has become something of a must-win for the Cyclones.
Although the task of topping KU and one other team is a bit daunting, ISU coach Paul Rhoads believes it's right in line with what his program is all about.
"The ultimate expectation of our program is to win a bowl game every year," Rhoads said Monday on the Big 12 coaches teleconference. "College football is about getting to the postseason. And you don't want to just get there, you want to win. For that to get accomplished, you gotta take 'em one at a time and that's exactly what we'll do this week with KU."
History suggests the Cyclones have an easy road to win No. 5. During KU coach Turner Gill's first 13 Big 12 Conference games, the Jayhawks have picked up one victory and been defeated by 28 points or more nine times. That includes six losses of 35 points or more and leaves three losses in which the Jayhawks were competitive on the scoreboard, although, even in those games, the Jayhawks were beaten by double digits. One such contest came in Ames, Iowa, the site of this week's game against Iowa State, and Rhoads shared his memories of what allowed KU to hang close in a 28-16 loss in 2010.
"I remember a team that was ready to play and came in and played lights-out," Rhoads said. "They had huge energy. They hit us in the mouth. They forced turnovers early (by) completely outplaying us. But we were able to stick around and win at the end of the fourth quarter."
Rhoads' Cyclones enter this week's match-up with Kansas — 11:30 a.m. Saturday — on the heels of their best game of the season. Last week, ISU toppled No. 19 Texas Tech, 41-7, in Lubbock, Texas. Although the victory kept ISU's hopes alive and provided the Cyclones with a much-needed dose of confidence, Rhoads wasn't planning any parades for this week.
"We're excited about how we played Saturday in Lubbock and want to build on that," Rhoads said. "But we want to play better in these four remaining games."
Although ISU (4-4 overall, 1-4 Big 12) appears to be in much better shape than KU (2-6, 0-5) heading into this week, Rhoads said the two teams were more similar than people may think.
"We've struggled, too," he said. "We're 1-4 in the league and have lost four games by a big margin. So we don't take their record versus our record as being much different. (Texas Tech) coach (Tommy) Tuberville and I were talking (last week) about the league and who we have left and the topic of KU came up. We just talked about their overall athleticism and speed. I think they run around real well, athletically speaking."
Rhoads went on to reveal which Jayhawks had impressed him most.
"(Junior wide receiver D.J.) Beshears, we think, is a really good player for them on offense," he said. "We tried to recruit him, thought he was coming to our place and know how very dangerous he is. I think (sophomore quarterback) Jordan Webb is a great player for their offense. And (sophomore running back) James Sims, I watched the video they had on their website of him run in spring ball. He scared me then, and he still scares me now with the ability he has out there on the field."