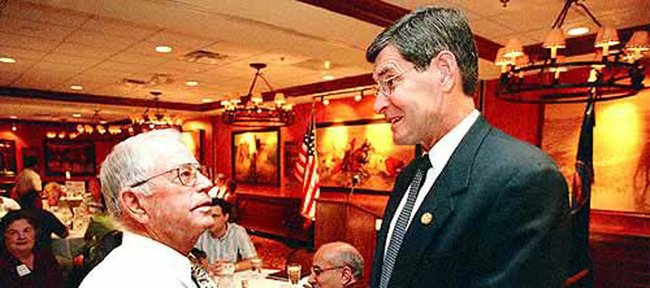 Former Kansas University track coach Bob Timmons has been selected for induction into the USA Track and Field Hall of Fame, the organization announced Tuesday.
Joining Timmons in the class of 2011 are Kansas City native Maurice Green, Gail Devers, Vince Matthews, Clarence Demar and Craig Virgin. The six will be inducted into the Hall on Saturday, Dec. 3, at the Jesse Owens Hall of Fame Banquet, which will be held in conjunction with 2011 USATF Annual Meeting in St. Louis.
Timmons, 87, coached at KU from 1965-1988 and led the Jayhawks to 27 league titles as well as four national championships.
"This is an outstanding honor for an outstanding coach," said current KU head coach Stanley Redwine. "Coach Timmons helped lay the foundation of the program here at Kansas and he deserves the highest praises for everything he has done for American track and field."
Timmons coached seven Olympians, 16 world record holders, 77 NCAA All-Americans and 24 NCAA champions. Under Timmons' tutelage, Jim Ryun, in his junior season at Wichita East, became the first high school runner to break four-minutes in the mile.
Timmons' coaching career at Kansas spanned 22 seasons and included four NCAA championships, 13 Big 8 indoor conference titles, 14 outdoor conference titles and four cross country conference titles. At the high school level, Timmons won 17 state titles in swimming, cross country and track and field.
Timmons is also a member of the KU Hall of Fame, the Drake Relays Hall of Fame, the Kansas Sports Hall of Fame, the Kansas High School Activities Hall of Fame and the USTFCCCA Hall of Fame.
KU now features 11 former Jayhawks in the USATF Hall of Fame, the most of any Division I program. Timmons joins former KU coaching legends Bill Easton and Karl Schlademan as well as Jim Ryun, Billy Mills, Al Oerter, Wes Santee, and several other Jayhawks to have their names enshrined in Washington Heights, N.Y.