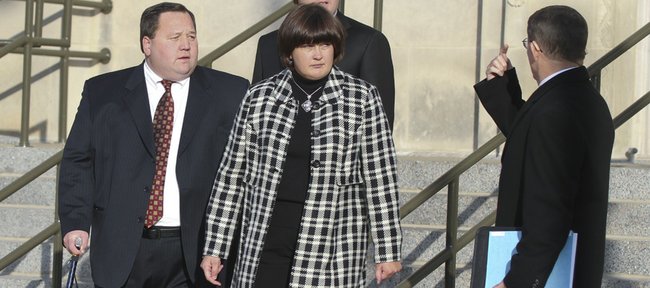 Charlette Blubaugh won't be spending the next four-plus years in camp.
Blubaugh, former associate athletics director for ticket operations at Kansas Athletics Inc., started her 57-month prison term last week in a Texas prison for her role in a scheme to steal and resell tickets to regular-season games for football and men's basketball.
The scheme cost the department at least $2 million.
Blubaugh is incarcerated at the Federal Medical Center Carswell, at the corner of a Naval Air Base in Forth Worth, Texas. The site is home to 1,600 female federal inmates, with half in general population, 240 in the medical center, 90 in the mental health unit and the rest in Carswell's satellite camp.
Blubaugh isn't in the camp, said Maria Douglas, a prison spokeswoman, noting that such a decision is based on the severity of her crime or other circumstances.
Two of Blubaugh's former colleagues are incarcerated in such camps elsewhere to serve their sentences in connection with the scheme:
• Rodney Jones, former assistant athletics director for the Williams Fund, is serving a 46-month sentence in a federal prison camp in El Reno, Okla., about 30 miles west of Oklahoma City.
• Kassie Liebsch, a former systems analyst who had taken over ticket operations upon Blubaugh's resignation in early 2010, is serving a 37-month sentence a federal prison camp in Greenville, Ill., 43 miles east of St. Louis.
Blubaugh either is being held in general population — along with other inmates — or is receiving some form of care.
Douglas said she could not disclose whether Blubaugh was under care for medical or mental health reasons, although Douglas did acknowledge that inmates needing special care typically arrive as suffering from cancer, needing dialysis, proceeding into hospice or otherwise needing management for a pre-existing condition.
Blubaugh had no such conditions when sentenced in April in federal court in Wichita for conspiracy to commit wire fraud, interstate transportation of stolen property and tax obstruction.
Prosecutors had described Blubaugh as the "gatekeeper for all stolen tickets" in the scheme, which occurred from 2005 to 2010. An investigation conducted for the department and Kansas University determined that the scheme involved more than 2,000 tickets for football and more than 17,000 for men's basketball.
Sentenced but still awaiting incarceration are Blubaugh's husband, former department consultant Thomas Blubaugh; and Ben Kirtland, former associate athletics director for development.