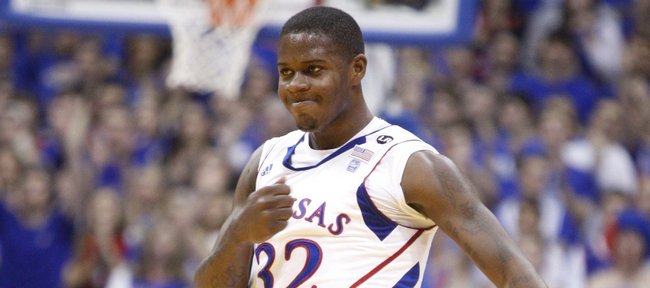 Former Kansas University combo guard Josh Selby, who worked out for the Minnesota Timberwolves on Tuesday and Indiana Pacers on Thursday, has taken a humble, low-key approach into a month's worth of individual drills with NBA teams.
"The biggest thing I need to show is I deserve to be here like everyone else," Selby told nba.com after Thursday's workout with Purdue's JaJuan Johnson, Villanova's Corey Fisher, Richmond's Justin Harper, Michigan's Darius Morris and Georgetown's Chris Wright in Indianapolis.
"People were questioning me because of what happened at Kansas. I need to show what happened at Kansas wasn't the real me. I was going through things, of course the injury (to foot) and suspension (nine games to start season). I'm just trying to showcase my game."
Selby, who averaged 7.9 points, 2.2 assists and 2.2 rebounds a game during his freshman season, is completely healthy now. He showed that by recording an amazing vertical leap of 42 inches at last week's NBA combine.
"At Kansas I was about 75, 80 percent. Now I'm 110 percent. It's a big difference. I didn't know I'd be suspended nine games. My first game was a great game," Selby said of a 21-point outing versus USC. "After that, I didn't know I'd have an injury. It pushed me back farther than I wanted to be. I'm just glad to be back."
ESPN.com's Chad Ford believes Selby will be selected No. 17 overall by the New York Knicks in the June 23 Draft. Draftexpress.com has Selby as the the first pick of the second round by Miami. The Pacers have the No. 15 pick in Round One, the Timberwolves Nos. 2 and 20.
"I can score. I will compete. I will play hard. No matter if I am shooting bad or shooting good, I will compete the same," Selby said. "I am never going to lower my level of competitiveness."
He said he isn't quite sure where he's projected to play in the NBA.
"I don't know what they are thinking," he said of NBA officials who grouped him with shooting guards at the NBA combine. "They ask me what I think my position is. I tell them right now I'm a combo guard and I just go from there."