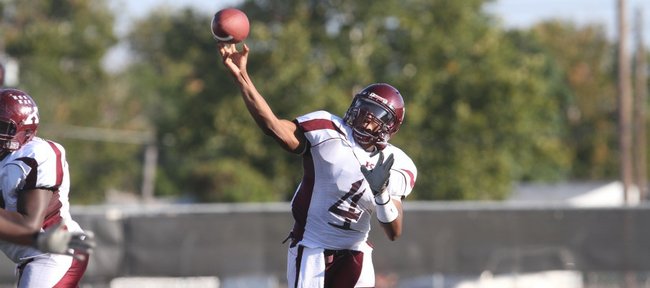 Podcast episode
The guys (Tom Keegan, Matt Tait, Jesse Newell) give their takes on recruit DeAndre Daniels and look at KU men's basketball's rotation with or without him. They also give reasons to be optimistic, and pessimistic, about KU's football team in 2011.
Kansas University freshman-to-be Michael Cummings has a few classes to finish, an enormous KU playbook to scour and a couple more weeks of fun with friends in front of him before he reports to Lawrence in June.
But, for some reason, all Cummings can focus on is his graduation speech and the huge batch of nerves that come with it.
Sunday, Cummings, a 6-foot, 196-pound, dual-threat quarterback from Killeen, Texas, will join one of his high school teammates and the school's valedictorian in standing in front of the entire school and addressing the senior class. His message?
"Really, just let God lead your life and use all the experiences we learned in high school and let it guide you throughout the rest of your life," he said.

Cummings has done plenty of that in the last several months. A knee injury stole the end of his high school career from him and the only way for the dynamic QB to make sense of it all was through faith. After leading his team to a 7-0 start, Cummings tore his meniscus in the eighth game and the wheels fell off. Killeen lost that game and finished 1-2 without its leader, bowing out in the first round of the state playoffs.
From there, Cummings was forced to watch from the sidelines as his friends and former teammates went through basketball and track season without him. So determined was Cummings to don a Killeen High uniform one more time, he attempted to join the baseball team despite not having played the sport for years. It didn't work.
"The doctor at my school wouldn't let me," he said. "He didn't clear me."
From there, his focus shifted to rehab and KU and getting back onto the football field as soon as possible. Just as he did while playing quarterback, Cummings turned in eye-popping results during rehab.
"The doctor says I'm ahead of schedule," Cummings said. "When I went in for my three-month check-up, he said I was where people usually are around six or seven months."
Just hearing those words was comforting for Cummings. Actually feeling the progress was even better. Each day since the surgery, Cummings has felt more confident in his knee. Though he's aware there's still more work to be done — he's especially excited about getting to Lawrence to rehab with KU's training staff — Cummings believes he's made enough progress to be a legitimate contender for KU's starting quarterback job this summer.
"It's gonna take work," said Cummings, who's talked with KU offensive coordinator Chuck Long twice a week since signing in February. "But I feel like there's definitely a good chance for me to come in and compete for the starting spot or else I wouldn't be coming at all."
Some days, Cummings has done a little more work on the field than he thought possible.
"I have tested it out some even though I wasn't supposed to," he said. "I've been running for the last three months, but I wasn't supposed to do any cutting or anything like that, but I have been. I had to."
The reason? He wanted proof that he still could be the dual-threat QB who threw for more than 4,000 yards and rushed for nearly 2,000 more during his sophomore and junior seasons combined.
The cuts felt good. So did the running. In fact, he says he feels better today than he did on the first day of football practice last fall.
Cummings will report to KU on June 10, a day after his final appointment with doctors. When he arrives on campus, he'll do whatever it takes to jump into the quarterback competition that includes returners Jordan Webb and Quinn Mecham and fellow-freshman Brock Berglund. Cummings has seen film of Webb and Mecham and he respects their abilities. He doesn't know much about Berglund, but said he's looking forward to battling with all three QBs.
"Competition brings out the best in people," Cummings said. "I knew it wasn't gonna be a cakewalk because they already had previous quarterbacks. But to have another quarterback in my class makes it that much better."
With just a few days remaining before Sunday's big speech, Cummings' focus keeps shifting back to his final act at Killeen High.

"I'm nervous," he said. "I don't want to forget the words. Football comes easy, but speaking in front of people is always nerve-racking. You don't want to mess up."