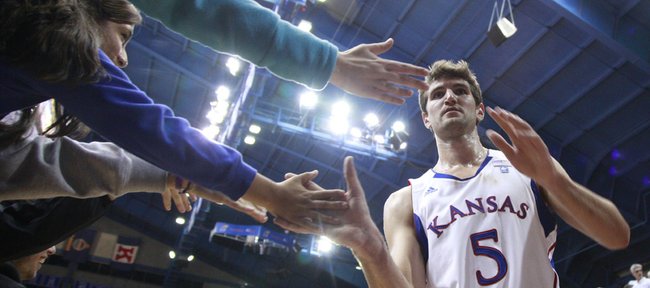 Kansas University basketball players Jeff Withey and Jordan Juenemann will play for Athletes in Action during a two-week trip to Europe from May 19 through June 3.
During that time, Athletes in Action will face local European teams, including clubs from Greece, Hungary, Poland and also the Kosovo national team.
Athletes in Action is a global ministry that uses sports to help people deal with questions of faith.
"This will be my first time overseas," said Juenemann, a 6-foot-3 senior-to-be from Hays. "It will be great to experience that and get to know guys from other teams. I think it will be really enjoyable."
Juenemann wanted to travel with Athletes in Action the last few summers, but plans had never worked out. He called the director of Athletes in Action to tell him he was interested this year, and a week later, Juenemann was informed that he made the team.
Because the team needed post players, Juenemann then started to recruit his roommate, Withey, a 7-foot junior to be from San Diego.
At first, Withey declined.
"I haven't been home for a year, so I wanted to go back home," Withey said. "Coach (Kurtis) Townsend and coach (Bill) Self heard about it, and they told me it would be a good opportunity for me because I haven't played a real basketball game in such a long time and it would also help me with my Christian faith."
It won't be Withey's first time in Europe, as he played in basketball tournaments in France and Germany during high school.
"I'm looking forward to going to that part of the world because there is so much history there. Playing the national team and being able to share my faith will be awesome," Withey said.
Juenemann is also appreciative of all of the individuals who donated to Athletes in Action to help the team travel to Europe.
"We'll be doing Bible studies, lots of prayers and growing in our faith together. I really believe God has something for Jeff and me over there to bring back to the states and KU," Juenemann said. "We want to come back and be leaders on the team from what we learn in Europe. We want to thank all of the people who support Athletes in Action to make this trip possible. We'll be growing in our basketball skills and growing in our faith, so to be involved with Athletes in Action will be an experience I take with me for the rest of my life."
Juenemann and junior-to-be Withey will fly out of Kansas City, Mo., on Thursday before meeting with their teammates in Chicago. They then will fly to Frankfurt, Germany, before taking a bus to Macedonia to start training.
The KU roommates will return to Kansas on June 3, a few days before summer classes begin.
Juenemann and Withey will be joined on the team by three other Big 12 players: Cory Jefferson (Baylor); A.J. Walton (Baylor); and Will Spradling (Kansas State). Other team members are: Austin Dufault (Colorado); Scottie Wilbekin (Florida); Jake Kitchell (Indiana State); Langston Hall (Mercer); and William Mosley (Northwestern State).
Lacey update
Trevor Lacey, a 6-3 senior guard from Butler High in Huntsville, Ala., is scheduled to sign with either KU, Kentucky, Alabama or Auburn on Wednesday afternoon at his high school.
His dad, William Pride, tells kentucky.rivals.com it's possible no announcement will be made at that time.
"It could be later," Pride told the website. "Pretty much right now he's just discombobulated ... a lot of pressure on the kid. I pretty much feel sorry for the kid just to know that he really doesn't know."
Players who do not sign letters-of-intent can still sign grants in aid upon reporting to campus.
Next year's rankings
Rivals.com has issued its new rankings for the class of 2012. Some players being recruited by KU and their new rankings: Perry Ellis, 6-8, Wichita Heights, No. 20; Shabazz Muhammad, 6-5, Bishop Gorman, Las Vegas, No. 2; Mitch McGary, 6-10, Brewster Academy, Wolfeboro, N.H., No. 5; Kaleb Tarczewski, 7-0, St. Mark's, Southborough, Mass., No. 11; Gabe York, 6-2, Lutheran High, Orange, Calif., No. 31; Winston Shepard, 6-8, Findlay Prep High, Henderson, Nev., No. 38; Nino Jackson, 6-2, Ardmore (Okla.) High, No. 39; J-Mychal Reese, 6-1, Bryan (Texas) High, No. 40; Robert Upshaw, 6-11, San Joaquin Memorial High, Fresno, Calif., No. 45. Future KU player Zach Peters, 6-9, Prestonwood Christian, Plano, Texas, is No. 126.