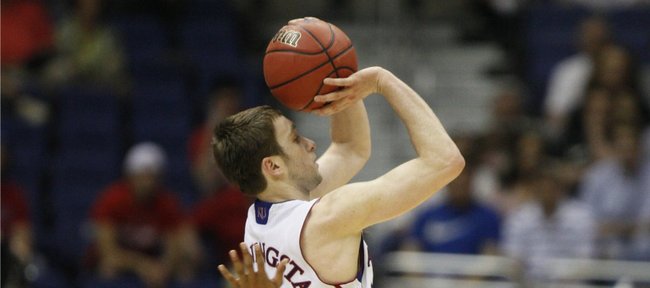 Coaches in the New England Preparatory School Athletic Council looked at more than cold, hard stats in selecting Kansas University signee Naadir Tharpe the region's Class AAA player of the year.
"For somebody to average 14 points a game and still be recognized, I think says a lot about Naadir," Brewster Academy coach Jason Smith said of the 6-foot, 170-pounder.
He averaged 14.5 points and 6.0 assists a game in leading Brewster of Wolfeboro, N.H., to a 31-3 record and spot in the national prep school semifinals.
"Numerous players averaged 20 points a game. I think people realized the role of point guard is facilitating the offense. There is no other point guard in the country I would rather have running my team than Naadir," Smith added.
"He makes good decisions. He has elite speed, but what separates him is he understands the game. One trait that really stands out is his basketball IQ. He's a pure point guard."
Tharpe, who will play in the East-West All-America game at 3:45 p.m. CDT, Sunday in Houston (it's available live on ESPN3 on the Internet; replay 8:30 p.m., Sunday, ESPNU), is expected to contribute right away at KU.
"He had a real good year. I think he'll help us. I think he'll be in our rotation right off the bat," KU coach Bill Self said of Rivals.com's No. 91-rated player.
The caliber of competition in prep school figures to help Tharpe make a quick adjustment to Div. I ball.
"We played against something crazy like 80 Div. I signees this year," Smith said. "All the stuff the normal freshmen have to get used to ... he's used to it. Even managing time in college. He's done it here the last three years. And there's not going to be the issue of homesickness."
Tharpe, who is originally from Worcester, Mass., but has played at the New Hampshire school three years, chose KU over Oklahoma, Minnesota and others.
"I would say my defense has improved and my jump shot, definitely," Tharpe said. "I just know I'll do whatever it takes for my team to be happy. I've always been a pass-first guy."
Tharpe followed KU's fortunes closely in the NCAAs, including Sunday's loss to VCU in the Elite Eight.
"Everything happens for a reason, I guess," Tharpe said. "Of course, I feel for them. That's the team I'm playing for next year."
Tharpe said he was amazed at the performance of KU sophomore forward/former Brewster teammate Thomas Robinson, who experienced the deaths of his mom, grandmother and grandfather this season.
"For something like that to happen to somebody that young of an age that fast and for him to still be playing basketball and doing what he does is amazing," Tharpe said.
Noted coach Smith: "I am mainly proud of Thomas and how he handled tremendous adversity he had to face this year. He is a strong young man."
Morris honored
KU junior Marcus Morris was named to the Wooden All-America team announced Wednesday. Others: Jimmer Fredette, BYU; Ben Hansbrough, Notre Dame; JaJuan Johnson, Purdue; Kawhi Leonard, San Diego State; Jacob Pullen, Kansas State; Nolan Smith, Duke; Jared Sullinger, Ohio State; Kemba Walker, UConn; and Derrick Williams, Arizona.
Brady to shoot tonight
KU guard Brady Morningstar will compete in the 23rd annual State Farm College three-point shooting contest, set for 6:30 p.m., today, on the University of Houston campus. It will be shown at 8 p.m. on ESPN2. ... KU's Tyrel Reed is in Houston as one of the finalists for the Lowe's Senior Class Award, to be presented Friday. ... Marcus Morris is expected to be in Houston as well for the NABC All-America breakfast.