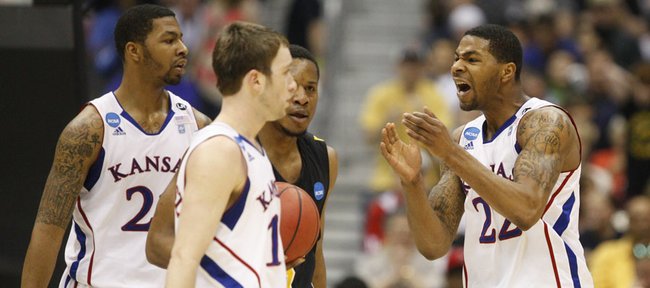 Kansas University junior forward Marcus Morris was named second-team All-America by The Associated Press Monday.
Marcus' brother, Markieff, earned honorable mention.
Marcus Morris led Kansas in scoring in 2010-11 with a 17.2 scoring average. The 6-9 Philadelphia native ranks among the national leaders in field goal percentage at 57.0 percent and his 7.6 rebounds per contest were second on the team. He had two of his nine double-doubles on the season in the NCAA Tournament and he was named to NCAA Southwest Regional All-Tournament team on Sunday.
As far as the first team, seniors dominated for the first time in five years.
Jimmer Fredette of BYU, Nolan Smith of Duke and JaJuan Johnson of Purdue, all seniors, were joined on the team by junior Kemba Walker of Connecticut and freshman Jared Sullinger of Ohio State.
It's the most seniors since four made the 2006 team.
Fredette led the country in scoring at 28.5 points per game (40.4 percent from three).
He received all but one vote from the 65-member national media panel that selects the weekly Top 25.
He is BYU's first All-America since Danny Ainge in 1981.
"If you go out and play your game and have confidence in yourself, you can accomplish great things," Fredette said. "That's what I've always said in my head, and it's worked out."
Smith, who received 61 votes, averaged 21.3 points, 4.6 rebounds and 5.2 assists. Smith is the fifth Duke player to be an All-America since 2000; two of them — Jason Williams and J.J. Redick — were selected twice.
Sullinger averaged 17.2 points and 10.1 rebounds while shooting 53.6 percent. The 6-foot-9 Sullinger, the seventh freshman All-America over the last five years, received 58 votes.
Walker averaged 23.5 points, 5.3 rebounds and 4.3 assists and was the leader of one of the youngest teams in the country.
The 6-10 Johnson was Purdue's inside presence, averaging 20.5 points, 8.2 rebounds and 2.3 blocks. He was the first Boilermaker chosen to the first team since Glenn Robinson in 1994. Johnson returned to Purdue after considering leaving for the NBA.
Marcus Morris was joined on the second team by Derrick Williams of Arizona, Ben Hansbrough of Notre Dame, Jordan Taylor of Wisconsin and Kawhi Leonard of San Diego State.
Fredette and Johnson were both on the preseason All-America team, along with Kyle Singler of Duke, Jacob Pullen of Kansas State and Harrison Barnes of North Carolina.