Videos
Pregame: KU vs. VCU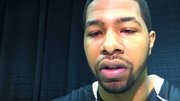 Kansas will take on Virginia Commonwealth in an Elite Eight matchup Sunday, March 27, 2011.
San Antonio — The Morris twins were asked about their futures Saturday at the Alamodome.
Have the two reached a decision whether to enter the NBA Draft or return to Kansas University for a final season?
"Not at all," Markieff Morris said. "We are focusing on trying to win a national championship. That's the main thing. This is the perfect time for us to try to do it. We've not thought about that at all."
Markieff was asked how the twins would handle it if they were to be separated next season.
"I'm not really sure," Markieff said. "We've never been separated too much, for too long. We're definitely not ready for that day to happen. That plays a big role in us coming back to school and playing our senior year."
Marcus, who also said he hasn't been thinking at all about next year — "We have a big game tomorrow, that's all I'm thinking about right now" — is not convinced he and Markieff will be on different NBA teams.
"A lot of people don't know what positions we could play on the next level if we make it at the next level," Marcus said. "We could be on the same team. Somebody out there might think we play real well together and see the success we've had on teams with each other in high school and college and might take us both. If they don't, they don't. It'll definitely be hard. We are definitely going to make an effort to see each other. We talk to each other every day. Even when I was at camp last summer, I talked to him every day, Skyped him and things."
Marcus on Sullinger
Marcus Morris on Ohio State freshman sensation Jared Sullinger saying he'll return for his soph season: "He is very young. Maybe he wants to learn the game a little more. Maybe he's not ready to get to the real world. When I was with him (at summer camps), he was hilarious. Maybe he wants to live his life and be a student a little longer and not force it. It's not always about getting to the NBA. It's about learning the game. I'm fortunate to be learning the game and being here."
Rumors
NBAdraft.net cited unnamed sources as saying KU sophomore Thomas Robinson would enter his name in this June's draft. NBAdraft.net said to "look for the announcement after the team's season ends. Robinson tragically lost his mother during the season and has siblings to look out for."
Robinson recently told the Journal-World he'd most definitely be back for his junior season.
Selby on NBA
KU freshman Josh Selby addressed the NBA question Saturday: "Right now, I'm just worrying about winning these last three games, getting the ultimate goal, a national championship," Selby said. "After the national championship, if we get there and we celebrate after we win, hopefully we do, then I'll think about it."
He was asked if it is an option that he could return to KU.
"Of course," he said.
Just Joshin'
Selby on a botched, acrobatic missed driving layup try late in Friday's Sweet 16 win over Richmond:
"Coach came in and teased me. The players teased me. It was all in fun. The ball got stuck behind my back. I was trying to whip it around, but it wouldn't go," Selby said.
Selby on KU's postseason run. "It's so much fun. This is exactly why I came to Kansas."
Scout team helps
Red-shirt Conner Teahan on the scout team's role in helping KU's rotation players prepare for teams such as Richmond and VCU.
"We go out there and work as hard as we can every day because we know it is important for us to give the guys as much of a feel as possible to what they are going to see," Teahan said. "I think it helps the guys out."
The scout team members this time of year include: Teahan, Jeff Withey, Royce Woolridge, Niko Roberts, Travis Releford, Jordan Juenemann, Justin Wesley and Christian Garrett. Wesley hasn't practiced with the team on road trips during the NCAAs. It's against NCAA rules for transfers to travel with the team.
Nearing a record
KU senior Tyrel Reed today can tie Duke's Shane Battier as the NCAA's all-time winningest player in a four-year span. Reed has won 132 games. Battier won 133 games from 1998-2001. Reed, who has lost just 16 games in four years, has tied four Kentucky players (Scott Padgett and Wayne Turner, 1995-98; Jeff Sheppard and Allen Edwards, 1996-99) for second on the all-time win list.
Morningstar hungry
Brady Morningstar on being so close to the Final Four: "It's right there in front of you. It's like putting a piece of steak on a plate in front of a dog who is chained up. He's right there, but he's chained up. Hopefully the next day you can let him loose. That's basically how we look at it. We're so excited to be in this position and be able to play tomorrow."
Morningstar on what it would take to erase memories of last year's second-round loss to Northern Iowa: "We have to learn to move on because it wasn't the end of the world. Northern Iowa had a heck of a game in beating us but we have to move on because that's just how it is. I would love to go out by winning a championship. I feel that is the best thing that could happen for a senior. That would make me forget about a lot of things."
Traveling man
KU beat Richmond on Friday and will be trying to beat VCU, another team located in Richmond, Va., today. Marcus Morris was asked if he'd be safe ever visiting Richmond if KU won both games.
"I don't even know where Richmond is," Morris said with a big smile. "I'll probably never go there anyways. I guess, in case I do, I'll have a little entourage with me to make sure everything is cool going there. Those guys are competitors. I don't think those guys would do anything, but the fans might. I saw a couple YouTube clips, and their fans are a little crazy. We might have to watch our backs."
Talking trash talk
Marcus Morris on VCU players saying they will not let Kansas trash-talk and bully them: "That's fine. I don't trash-talk. I don't know why people say I trash-talk. I just say words. You've gotta YouTube guys like Kevin Garnett. That's trash-talking. What he does and what Kobe (Bryant) does and what Carmelo (Anthony) and those guys do is trash-talking. We just say some things that's all just in the emotion of the game. It's definitely not trash-talking."
Markieff Morris on the same topic: "For them to say that means they already have us on their minds about doing it. That doesn't mean anything to us. We don't want to bully anybody, but it's good that they think that's what we are going to do."
Smart praise
Bill Self on VCU's 33-year-old coach, Shaka Smart: "Part of coaching is getting your guys to play with confidence. And he's from the appearance to me has the entire team playing with an abundance of confidence and certainly none more than the guy we're talking about because he's on a roll right now."