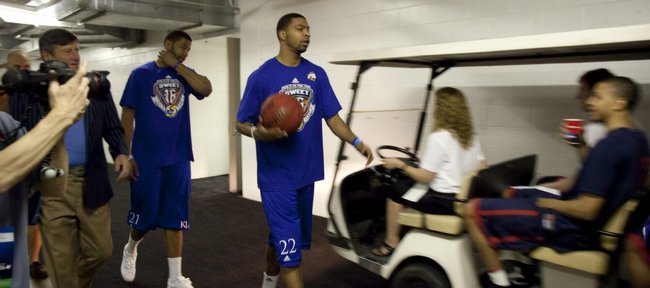 Videos
Pregame: KU vs. Richmond
Kansas takes on Richmond in the Sweet Sixteen of the 2011 NCAA Tournament.
San Antonio — Marcus Morris bounced a basketball while walking down an Alamodome hallway with brother Markieff and TBS announcer Craig Sager on Thursday afternoon.
Small talk was interrupted when a cart carrying a couple Richmond players drove by.
"You boys better be ready," Morris, Kansas University's junior forward, said to the Spiders, who take a No. 12 seeding and 29-7 record into today's 6:27 p.m. Southwest Regional semifinal contest against top-seeded KU (34-2).
Morris, who has become a bit more outspoken the past month or so as he's embraced an unofficial role as team leader, seemed surprised when a reporter asked if he was simply joking around with the Spiders.
"I was serious," Morris said. "Play little mind games with them, try to get funny with them so they could come out all excited, and we could come out all loose and have the shoe on the other foot.
"You know how some people try to put the tough face on sometimes and try to not show their emotions? I am the type of guy who wears my emotions on my sleeve. You can tell if I'm mad or not mad."
Regarding this particular comment ...
"I am so serious," Morris said. "I want their best shot. A lot of people say we should win and things like that. That's not the truth. Everybody is here to play. They have beaten capable teams this year. It's time to go."
To advance to Sunday's Elite Eight game against either VCU or Florida State, the Jayhawks must overcome a Richmond team that enters today's Sweet 16 as red-hot as any team in the land.
The Spiders of the Atlantic 10 Conference — who are led by the inside-outside punch of 6-foot-10 Justin Harper (17.8 ppg, 6.9 rpg) and 6-foot Kevin Anderson (16.7 ppg, 3.3 apg) — have won nine of 10 games, 13 of 14 and 18 of 21.
What's more, the Spiders have five starters capable of shooting the three, including Harper, who has made 75 of 166 treys for 45.2 percent.
"We've played other teams where all five could shoot threes. Iowa State ... all five of their guys could shoot threes. We beat them twice," Morris said. "There's a small adjustment knowing we need to run them off the (three-point) line, to guard them tighter and know what they are trying to get."
Morris, who is 6-9, 235 pounds, said he figures to open defensively on the 6-10, 225 Harper.
"A lot of people say he's a great player, good player. A lot of people say I'm a good player. So just see who is the best player," Morris said.
Morris played at camps this past summer with Anderson, who along with Harper is an experienced senior.
"He's definitely a good point guard, a little smaller but definitely good," Morris said, "but I like our point guards better."
KU coach Bill Self praised Richmond's high-scoring duo Thursday.
"If you are going to have a 1-2 punch, it might as well be a little and a big. That's pretty good," Self said. "What do they average together, 32 a game? It's one thing to average 32 if you are scoring 85 a game. If a team's scoring 70 (as Richmond is), it makes it more impressive."
Specifically regarding Harper and Anderson, Self said: "I think anybody 6-10 that can shoot threes and post is a hard matchup. He's good, long, athletic. Anderson is a hard matchup. He's really good."
Richmond not only presents a challenge with its personnel, but its system. The squad plays a Princeton-style offense and matchup zone defense.
"We've been guarding teams that do backdoor cuts," Marcus Morris said. "Colorado ... they do it with the best of them. Memphis does it with backdoor cuts. We are ready for that."
Noted Self, who insisted Richmond wants to play fast, but is capable of slowing things down when the advantage is not there: "We can't give up layups. We can't give up threes. There could be a lot of times in late-clock situations you are caught guarding somebody you don't normally guard, maybe a twin on a point guard or a point guard on a Harper, something like that. We have to make sure we are tough in the last 10 seconds of the shot clock.
"(Offensively) we have to be in attack mode the whole time, get the ball where it needs to go."
As far as intangibles, the Jayhawks insist they won't be nervous facing a potential Cinderella team and also will not overlook the Spiders.
"We are over that 'tight' thing," junior Tyshawn Taylor said. "We are just trying to play now. Richmond is here for a reason. We will play them like we would Duke, Ohio State or whoever else is a 1 or 2 seed. If we come out with the mind-set that they could beat us, I think we'll be fine. We've got to be tuned in. That's a way to be tuned in, knowing we could be beat if we don't come to play."
Another way to be tuned in? To be as fired up as Marcus Morris, who showed that intensity in speaking to the Spiders as they drove by in the cart Thursday.
"I don't want to go that far. I can't go that far," Morris said, when it was pointed out he didn't guarantee a victory or say anything too inflammatory. "Then coach just might get on my back. I can't do that. I just tell those guys to be ready, because we are gonna be ready."