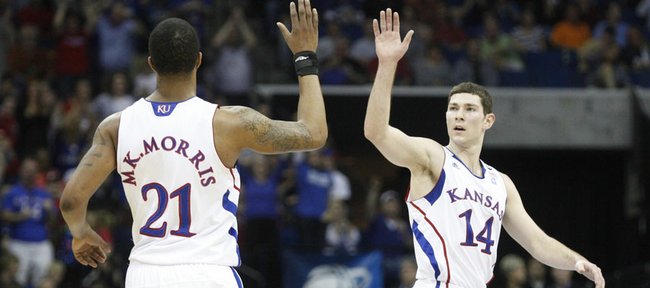 Now that he has cemented his spot in Kansas University basketball history, senior Tyrel Reed can begin his assault on the rest of college basketball.
Last Sunday, with KU's 73-59 victory over Illinois in the round of 32 at the NCAA Tournament in Tulsa, Okla., Reed, who now has 131 victories in a Kansas uniform, surpassed former KU great Sherron Collins as the player who won the most games in school history. In doing so, he pulled within one victory of tying four former Kentucky greats for second on the all-time wins list (132) and within two from tying former Duke standout Shane Battier for first all-time at 133.
As expected, Reed deflected the credit for his accomplishment to teammates past and present. When asked what it would mean to pick up three or four more wins to vault into first place all-time before his career ends, Reed said the mere thought was overwhelming.
"I can't even imagine that," Reed said. "That's kind of hard to even think of. I just give credit to all the great teams I've played on, all the great teammates I've had and all the hard work that's gone into it each and every season."
Funny, because his teammates give credit to Reed.
"These last two years, he's been a big part of us winning. Last three years, really," junior guard Tyshawn Taylor said. "Maybe not so much his freshman year, when they won it all, but the last three years, we've won a lot of games because Tyrel made some big shots for us. We call him 'Big Shot Ty,' and he got that name for a reason."
There were several marquee pit stops along Reed's road to 131 wins during the last four seasons. In 2008, the Jayhawks won the national championship in San Antonio, a city they'll return to this week to prepare for their Sweet 16 match-up with Richmond on Friday.
Reed also suited up for three victories in Big 12 tournament championship games. He was there when KU coach Bill Self won his 200th game as a Jayhawk and 400th game all-time. And, last year, in early March, Reed contributed four points and 17 minutes toward the 2,000th victory in Kansas history.
The 6-foot-3, 193-pound shooting guard from Burlington, remembered each of those games. But, for the life of him, he could not recall his first official victory as a Jayhawk. It came on Nov. 9, 2007, and Reed, then just a freshman, scored 11 points on 4-of-5 shooting in 11 minutes as KU topped Louisiana-Monroe, 107-78, at Allen Fieldhouse.
"Now that you say that, I remember the game," Reed said. "First regular season game as a Jayhawk, it was just fun being out there."
That fun has continued throughout the years, whether his numbers have been up or down. Reed averaged just six minutes and two points per game as a freshman, but Kansas won 37 games and a national title. His numbers jumped to 21 minutes and 7 points per game the next year and KU's win-total stayed high at 27. Last season, Reed's numbers dipped a little, as he played just 16 minutes a game and averaged 5 points per outing. KU won 33 games. And this year, with Reed starting all 36 contests and averaging 10 points a game, KU's win total has remained elite. The Jayhawks are 34-2 entering Friday's game.
"Kansas is a winning program," sophomore Travis Releford said. "So if you decide to stay here four years, you're gonna be a part of a lot of wins."
With a maximum of four games remaining in his college career, Reed's eyes and mind remain fixed on finding a way to help his team win them all. If that happens, Reed will close his KU career with an all-time NCAA record 135 victories on a team that won the most games in a single season (38) in NCAA history. He also will walk away with two national championship rings.
"I'm just a normal kid who grew up in a small town in Kansas," Reed said. "That's just me. But it would be awesome if it happened. Coming from a small town like that, it just shows it can be done."
Injury update: Reed on Tuesday gave an update on his left foot injury that will require surgery after the season.
"It's fine. It's still there attached to the leg," he said of his foot, which has a lingering stress reaction. "It's still sore, sore after most all our games."
Reed only practices full-time the day before games.
"It's nagging, constant pain. I'd explain ... it's really not my heel but my ankle. It's like having a rock in your shoe all the time," Reed said. "It never goes away. It's most sore in the morning. That's when it's most stiff. I tape it up. I may take some meds to make the pain go away. Once I get it going, once I start playing, I usually don't think about it."