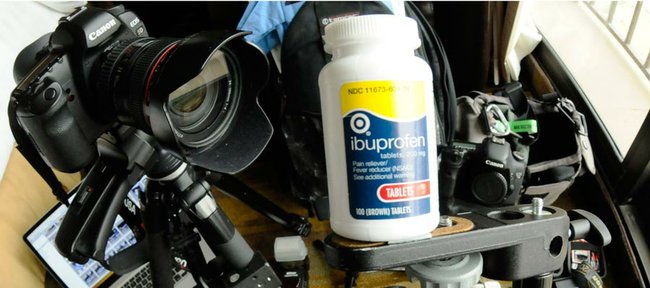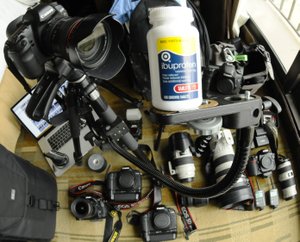 For our daily work, Journal-World photographers carry two camera bodies with two lenses. On one body is a wide-angle lens and on the other a telephoto. Additional equipment might include a flash and a tripod. Now that we shoot video, some of us carry microphones and other video gear. Most of this fits into a medium-sized camera bag and is fairly light on the shoulder. For NCAA Tournament time, we have to up our game. Here's some of the gear staff photographer Nick Krug and I are wheeling to the BOK Center in Tulsa, Okla., to cover the KU men's games:
A dozen rechargeable camera batteries
Four tripods and camera mounting clamps
Three camera remote firing devices
One digital audio recorder
All this gear barely fits into two camera bags, a backpack and two large cases on wheels. That's how we roll.
You might think it's overkill on gear but here's how it gets used.
At game time, we sit on the floor, along the baseline at opposite ends of the court. When action is at our end, we use the camera with the wide-angle or medium-telephoto lens. When action is at the opposite end we shoot with the telephoto. On the floor in front of us is a third camera body on a small tripod with a wide-angle lens. This camera is triggered with a wireless remote device connected to the camera in our hands. As you follow the action and take a photograph with the camera in your hand, the remote camera fires simultaneously. This provides two angles of view for one play. In addition, Nick will often set up a third remote camera. At the BOK Center, he has one placed under a courtside table, directly across from the KU bench. It provides a wide, side view of the court that would otherwise be inaccessible to a photographer.
Hauling all this gear to and from the arena, through security checks and then setting it up is both stressful and time-consuming. Photographing the game is a breeze. Dealing with all the gear is a headache. Now where did I put that ibuprofen?
— Chief photographer Mike Yoder can be reached at 832-7141.