KU vs. Texas
Videos
KU vs. Texas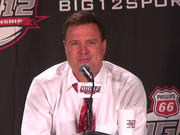 Kansas defeated Texas in the 2011 Big 12 tournament championship game Saturday, March 12, 2011 at Sprint Center in Kansas City, Mo.
Kansas City, Mo. — Bill Self watched with pride as his Kansas University basketball players, the ones wearing blue Big 12 championship T-shirts and gray caps, climbed atop a ladder and snipped the nets on Saturday night in Sprint Center.
The team that wasn't allowed to celebrate its regular-season title made up for lost time after a resounding 85-73 victory over Texas, giving the Jayhawks five league tourney titles in the last six years.
"We've had some good ones ... that one was pretty good," Self said of victories in a 32-2 season.
"Our guys were so focused. We played with so much energy. They were ready for this game. I told them, 'You guys are the ones who said you wanted Texas. Now you have to back up your talk today.'''
Self, who is about as demanding a coach as there is in the country, said something kinder and gentler to the Jayhawks before they went out and avenged a 74-63 home loss to the Longhorns on Jan. 22 in Allen Fieldhouse.
"I told them I woke up today, sun is shining, new day is dawning, 'It's going to be a great day. We're going to have more fun than we've had in a long time, that kind of stuff,''' Self said. "It does get old hearing over and over (from him) how we can do things better.
"I was pleased. They are great kids. They try hard. Our focus was off the charts today."
After storming to a 48-33 halftime edge and never really being threatened on a day the lead dipped to eight points in the second half, the Jayhawks let the world know they were indeed capable of celebrating.
Marcus Morris (17 points, six boards), who fed brother Markieff (14 points, nine boards) for a vicious dunk with 1:11 left, shook his head from side to side while grinning and pulling his jersey out for the pro-KU crowd of 18,940 fans to see.
After dribbling out the clock, Marcus put one index finger to his nose and mouth, in sort of a "hush, hush" motion — hard to understand since earlier he'd been waving his hands for the fans to make noise.
"It means, 'Be quiet,''' Marcus, KU's junior forward from Philadelphia, explained. "Last night I heard (TV) commentators say Texas' bigs dominated our bigs last time. We wanted to let our play do our talking for us so I did this ... be quiet."
The Jayhawks headed to the podium immediately after the final horn to receive their title trophy but oddly had to wait until the UT band finished playing the school's fight song. Self accepted the hardware from a league official, hoisted it high, then presented it to his players.
Marcus Morris, who was named tourney MVP (brother Markieff was also on the five-player all-tourney team), received his award and listened to the fans chant, "One More Year."
"You can't trade the feeling we had. It's the confetti feeling,''' Marcus Morris said, referring to confetti falling from the arena rafters. "This was a big win. We redeemed ourselves (after losing to Texas in Allen). We sent the country a message we're for real. We let them know this is definitely our conference. Seven back-to-back in the regular season and two (postseason) tournaments back-to-back. That has to send a message to somebody."
Markieff backed up a message he sent to UT's players when he met the Longhorns in an arena hallway after Friday's semifinal victory over Colorado. Jai Lucas had told the Austin American-Statesman that Markieff "had some choice words you can't put into the newspaper."
"Of course I feel good I backed up my words," Markieff said. "I just said, 'You are all next, and we're ready for you.' That's all I said.
"We feel the Big 12 is our conference. They got away with one when we were down and stuff was happening and we were drained. We came out today with a chip on our shoulder."
The night before the first meeting, the Jayhawks had stayed up consoling Thomas Robinson, who'd learned his mother had died back in Washington, D.C.
"Last night, Tyshawn (Taylor, season-high 20 points) said it felt like somebody hit you without looking and then ran away,''' Robinson said after scoring 10 points and grabbing nine boards in 18 minutes. "I take nothing away from them. Not using an excuse, but we weren't at full speed. We played them at full strength today. We definitely wanted to set the record straight. Texas is a great team, but we are a good team, too."
KU had six players score in double figures, but no other Jayhawks scored. Brady Morningstar and Tyrel Reed had 13 and 11 on a day the Jayhawks hit 56.9 percent of their shots to Texas' 40.9 percent. KU outrebounded tough Texas, 38-33.
"I talked to my brother and T-Rob and said, 'Today will not be one of the days Thompson (Tristan, seven points, two boards) gets 11 offensive rebounds like he does all the time," Marcus Morris said. "We played as hard as we possibly could. It was a great, great day."
As will be today. KU most assuredly will be awarded a No. 1 seed when NCAA Tournament pairings are announced at 5 p.m. on CBS.