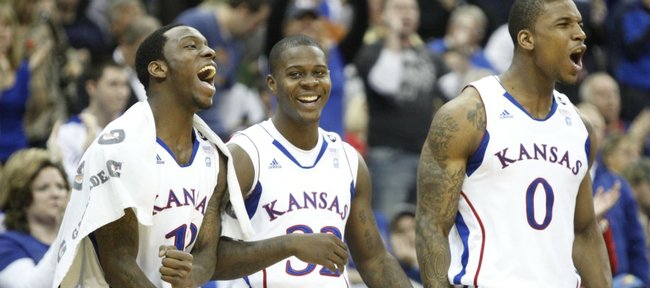 Kansas City, Mo. — Truth be known, Kansas University's basketball players wanted to play Kansas State in the 2011 Big 12 tournament.
"Just because they beat us," KU junior center Markieff Morris said of an 84-68 decision on Feb. 14 in Manhattan, which followed the Jayhawks' 90-66 victory over the Wildcats on Jan. 29 in Allen Fieldhouse.
There will be no Sunflower Showdown Part Three during the 2010-11 postseason.
Upstart Colorado defeated KSU, 87-75, in a Big 12 quarterfinal Thursday, setting up today's 6 p.m. KU-CU semifinal matchup in Sprint Center.
KU beat the Buffs, 82-78, on Jan. 25, in Boulder, Colo., and again, 89-63, on Feb. 19 in Allen Fieldhouse.
"In a perfect world for us, if somebody gets you, you want a chance to get 'em back. That's how it works," said KU coach Bill Self, who understands why the Jayhawks wanted to play the 'Cats. "Our guys will be focused no matter what.
"We played well against them (the 21-12 Buffs) at home. They almost got us on the road. (Alec) Burks and (Cory) Higgins are terrific. (Levi) Knutson is a good player. (Marcus) Relphorde is a tough match for anybody. He's a three man playing a four, and they are fighting for their life."
The Buffs, who may already have locked up a spot in the NCAA Tournament, would solidify a spot with a victory over No. 2-ranked KU today.
"We're not taking anybody lightly. Some might say we took them lightly today, but we didn't have it offensively," senior Mario Little said after KU's narrow 63-62 victory over Oklahoma State. "We're not taking anybody lightly."
The Jayhawks have won 17 in a row and 44 of 45 versus CU.
Of course, this is a different Buffs team, led by KU grad Tad Boyle.
"They present a heck of a challenge," Boyle said of KU. "I hope they shoot from the perimeter tomorrow like they did today (5-25 from three vs. OSU). Because what makes them so hard to guard is they've got inside post presence from multiple guys. And they've got some pretty good capable shooters surrounding them.
"They're a good team. It's going to be a heck of a challenge. But our guys are ready for it. It's time for us, hey, let's go ball. We know what we have to do. Let's let it all hang out, we've got nothing to lose, and we're going to be loose, but we'll be ready."
Burks, a sophomore guard from Grandview, Mo., scored 24 points versus K-State off 7-of-14 shooting.
"It's love," Burks said of his thoughts playing so close to home. "I'll always come back to Kansas City and put on a great show. It's love because I'm from here, so I love playing in Kansas City."
The Jayhawks definitely respect Burks, who scored 25 versus KU in Boulder and 15 in Lawrence.
"Him and Marcus could have got half player of the year with each other," Markieff Morris said. Instead Marcus was Big 12 player of the year, with both Burks and Morris first-team all-league picks. "He definitely led his team to a remarkable season. He is a tough challenge for us."
"He definitely could have been player of the year," Marcus said.