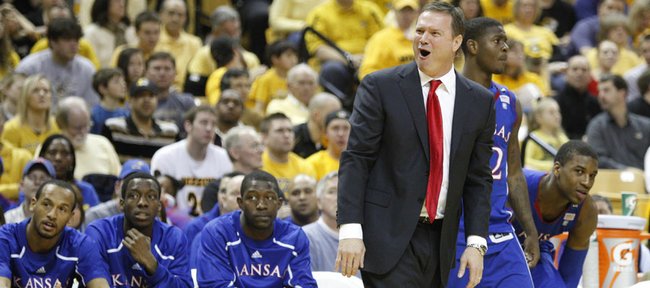 Kansas City, Mo. — Top-seeded Kansas University goes into the Big 12 tournament favored to win but with much to lose.
Colorado and Nebraska, in the final hours of their Big 12 membership, both have much to gain.
For fired-but-still-working Pat Knight, the four-day event in downtown Kansas City is an opportunity to extend his time as Texas Tech's coach by at least one game.
And besides all that, the last Big 12 tournament that will actually have 12 teams should be wide open.
"Certainly this year, there's so many teams out there with so much to play for, it should be as competitive as any tournament we've had," Kansas coach Bill Self said.
The No. 2 Jayhawks (29-2), the conference regular-season champions for the seventh year in a row, figure to already own a No. 1 seed in the NCAA Tourney. But if they should stumble and lose on Thursday morning to the winner of today's Nebraska-Oklahoma State matchup, they could get pushed down a line, depending on what happens at other conference tourneys.
"To me, the conference tournaments aren't as important as the regular season," Self said. "What it does is give everybody hope. It gives everybody incentive to play for. I know it's not the most important thing, from our standpoint, as the NCAA tournament. But still yet, it is our league and it is our conference championship and any time you lace 'em up you want to try to play your best."
Knight was fired by Texas Tech on Monday after going 50-60 in three seasons. The Red Raiders (13-18) will have a bevy of seniors line up against sixth-seeded Missouri (22-9) in the last game tonight.
"This is about the seniors," Knight said. "Hopefully, I'm going to coach again. But we've got some seniors, and this could be their last game or last couple of games."