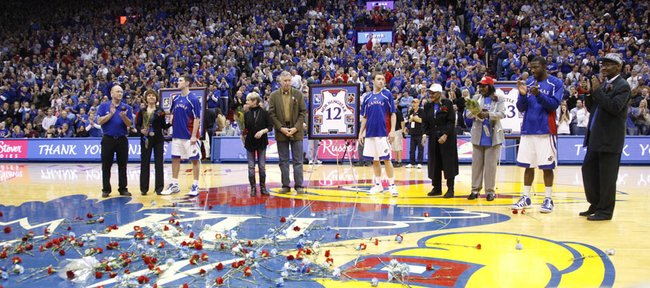 Kansas University's basketball players looked at, but did not hoist, their new, 2010-11 Big 12 championship trophy, which sat solemnly in the middle of the Jayhawks' locker room after Wednesday's historic 64-51 victory over Texas A&M; in Allen Fieldhouse.
The Jayhawks, who wrapped up at least a share of their seventh-straight conference title heading into Saturday's regular-season finale at Missouri, put on hold any wild celebrations after a hard-earned, emotional Senior Night victory over the Aggies.
"It is amazing," KU coach Bill Self said of the longest league-winning stretch in school history. KU won six straight from 1922 to '27. It's also the longest streak from a team in a major conference since UCLA's stretch of 13 from 1967 to '79. Gonzaga of the West Coast Conference has won 11 in a row.
"But it kinda ... it wasn't a big deal to celebrate, by any stretch," Self added. "We would rather do it ourselves than hope for help from anybody else."
A victory over Mizzou and KU (28-2 overall, 13-2 Big 12) has the title to itself; a loss, coupled with a Texas win over Baylor, would mean the Jayhawks would have to share with the Longhorns.
Either way, KU is a champ.
"Coach said, 'Congratulations,' when we walked off the court," junior Marcus Morris said after tying brother Markieff for team-high scoring honors with 13 points. "But it's not over. We are going to practice tomorrow. We're not going to have a day off. We've got to go to Missouri and win. That's when we'd probably really have a conversation in the locker room congratulating players."
Morris modeled his new Big 12 championship T-shirt in the locker room with his title teammates.
"I was about to walk in here with my shirt on. They made me take it off," Morris said of the interview room. "They don't want us to get too big-headed about sharing it. That instills in my mind we have to keep working."
They'll keep working while acknowledging the fact KU already has achieved something special.
"One more than Jordan," KU senior Brady Morningstar said with a smile, referring to Michael Jordan's six titles with the Chicago Bulls. "It's a pretty good accomplishment, but we have business to take care of Saturday. We don't like sharing."
Perhaps Self put the night best into perspective when he grabbed the microphone after the game and told the fans: "It's a special night when you can win seven in a row and send these seniors out in style like that."
KU grad Mark Turgeon's Aggies (22-7, 9-6) were in this Senior Night game up until a back-breaking 13-2 KU run turned a slim 43-41 lead into a 56-43 advantage with 5:25 left.
Fittingly, seniors Reed and Morningstar each hit a three in the run.
"Isn't it amazing that regardless of who you recruit, you have to have a guy from Lawrence and a guy from Burlington in order to look good?" Self said. "Brady and Tyrel certainly played well tonight."
Burlington bomber Reed had 12 points, and Free State High grad Morningstar nine, while fellow senior Mario Little did not score but had three boards in 15 minutes.
The country today will be talking about KU's mind-boggling streak of consecutive Big 12 titles.
"We focus on winning the Big 12 every year," Reed said. "It's our main goal. We say it after every practice. The coaches instill that anything else is sub-par. It comes down to a lot of coaches and a lot of guys."
Noted Morningstar: "A lot has to do with our homecourt advantage, our fans. This is the best place to play in he world. I've heard Cameron Indoor (at Duke) is pretty cool, but there's not a better venue than this one. Also we don't look past our conference season."
•
The KU fans chanted "One More Year" in the direction of Marcus and Markieff Morris as they exited the game at the final time out.
"Definitely, I thought about it," Marcus Morris said of having his own Senior Night at KU, "but I'm just trying to finish the year out and see how the year goes. Of course I want to do a Senior Night because I see how special it is for these guys, but I'm not making any decision right now (on NBA)."