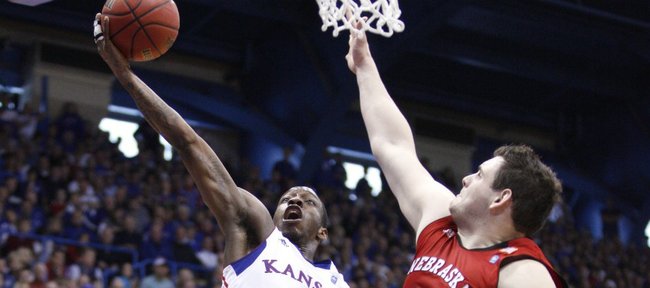 LeBryan Nash (Oklahoma State), Angelo Chol and Josiah Turner (Arizona), Trevor Lacey (Alabama), DeAndre Daniels (Connecticut). OK, that's enough about the recruits Kansas University basketball coach Bill Self and his staff didn't land.
Naadir Tharpe, Ben McLemore, Braeden Anderson, Jamari Traylor, Kevin Young, Merv Lindsay. OK, that's enough about the recruits Kansas did land.
This coming season will be more about the faces returning than the fresh ones.
Stop me if you've heard me predict this before, but I really believe Tyshawn Taylor will have the sort of senior season that will make everyone forget he often teased with talent and disappointed with immaturity.
Nobody's more important to a college basketball team than a point guard. Taylor, more than anybody else, will be the one pounding the basketball off the massive center-court Jayhawk when the team races at the blurry pace it's likely to play. Despite his erratic history, that's a good thing.
Taylor has played more college basketball minutes (2,736) than every other returning Kansas player combined (2,393). The break-down: Thomas Robinson (718), Elijah Johnson (645), Travis Releford (527), Conner Teahan (218), Jeff Withey (207), Jordan Juenemann (56), Niko Roberts (22).
Young, eligible to compete for Kansas this coming season, has played 2,012 minutes of college basketball, all in two seasons for Loyola-Marymount. Justin Wesley, also available this year, played 227 minutes in one year at Lamar.
Taylor showed his talent early in his KU career. Before playing a single Big 12 game, he already had scored 17 points in 36 minutes of an 89-81, overtime loss to Syracuse in the Sprint Center, prompting Orange coach Jim Boeheim to say, "Wow, Taylor's a good player."
And at times, a frustrating one. But Taylor's smart enough to know that as the leader of such an inexperienced team, growing pains must be reserved for others.
"It's my last year. I feel every game will mean a little more to me," Taylor said after playing in a recent Bill Self Camp scrimmage. "I can't get it back. I'm definitely excited about it and ready for it."
Words don't resonate unless backed up by actions and Taylor brought a different attention to detail, a better zest for the game, when he returned from a late-season, two-game suspension pinned on him by Self.
In 27 pre-suspension games, Taylor averaged 8.8 points, shot .429 overall and .361 on three-pointers. His numbers in nine games after returning: 10.6, .550, .456. He also played better defense.
The team revolves around Taylor at the point and Robinson in the post, so in some ways it calls to mind the 2008-2009 squad that for the first time centered around Sherron Collins at the point and Cole Aldrich in the post. Those Jayhawks, with big help from the freshman class featuring the Morris twins and Taylor, exceeded expectations by going 14-2 in the Big 12 and taking a lead into the final minutes of a Sweet 16 game against title-game-bound Michigan State.
"I've been on a rebuilding team for three years, I guess, and we've been No. 1 in the country the past two years," Taylor said.
He knows what it takes to win.