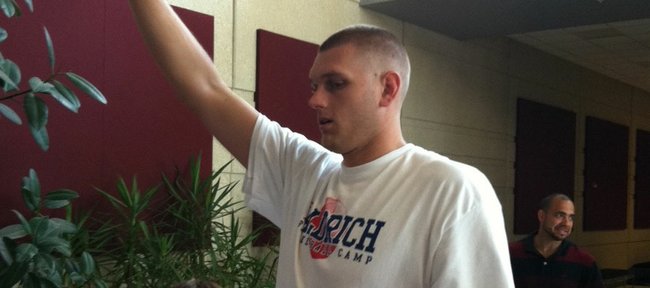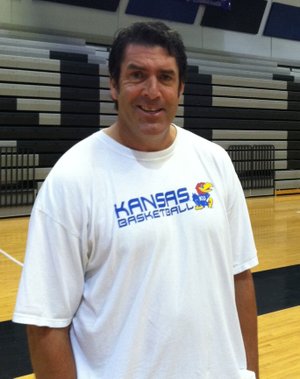 Olathe — Former Kansas University basketball player Jeff Gueldner teamed with his college roommate, Mark Randall, in a three-day member/guest golf tournament last week.
How'd the 42-year-old Gueldner play?
"Poorly," Gueldner, the 6-foot-5, sweet-shooting member of KU's 1988 NCAA championship team, said with a smile. "I've not exactly gotten back to where I was. It (golf) hasn't been a real focus of mine."
Gueldner — who is helping coach more than 100 youths at this week's Cole Aldrich Basketball Camp at Olathe Northwest High — should see his handicap drop consistently as the summer progresses.
He's well into a successful comeback from Feb. 25, 2010, cancer surgery and resulting radiation and chemotherapy treatments that — according to five scans — have him cancer-free.
"I had squamous cell carsinoma in my neck, a little lump in my neck," Gueldner said. "It was in between Stage 3 and Stage 4 with some spreading.
"The good part of this cancer in your neck is you see the lump. The downside is it's rough treatment that affects everything going on with your salivary glands, your tongue, everything. The radiation really beats down on you.
"It's been a battle. It could be a lot worse. I'm still standing upright. I've gotten most of the weight back I want to get back. I'm starting to feel good," added the 180-pounder.
"With cancer, it's always a five-year deal. So far, so good."
Gueldner, who had 72 staples in his neck following his cancer surgery, serves as an inspiration to both former KU forward Randall, community relations director for the Denver Nuggets, and Oklahoma City Thunder/former KU center Aldrich.
"I respect him ... for sure," Aldrich said. "He's a guy that was, I guess, you could say on his 'lifebed,' never knowing if he'd see his (three) daughters again. Coming back from that shows how strong a person he is."
Noted Randall, who is also working the camp: "Jeff had a little scare with cancer. Everything's good with him. It's been great to spend time with him. He's been through a lot. He's had several tests done. He's good."
Gueldner, who owns a used-car dealership in Olathe, was a natural to help Aldrich run his first camp.
"He's been great to me for a few years of just seeing him around, saying hi and whatnot," Aldrich said. "The past few years we've had a really good relationship with each other. He's done camps before. He's helped this camp a lot. I don't know if I could do it without him. I'm just learning."
Gueldner — he has worked in advertising, the cell-phone business, real estate and even the collegiate-flag business — also knows his basketball.
"Cole came to me a couple months ago with the idea of putting the camp together and wanted some help. Obviously I live in the area and know people around the school and people around here. I thought it'd be fun. Cole is a good guy. I wouldn't say it to him personally, but he's a good guy," Gueldner cracked.
Cole's career
Gueldner and Randall are in agreement that Aldrich, who played sparingly his rookie year in OKC, can be a successful pro.
"The downside of getting drafted by a team with a playoff-caliber roster is you are not going to get the minutes," Gueldner said. "You have to put the time in and understand it's a job, and it's a marathon. He has a great attitude and works hard. He understands it's a business. He's going to do what they pay him to do."
"His potential is unbelievable," said former NBA player Randall. "Cole didn't play much this year, obviously he did in the D-League (with Tulsa). He kept his attitude positive. I got to see him working out with some of the big boys (before playoff games against the Nuggets). He was doing great things. He has unlimited upside."