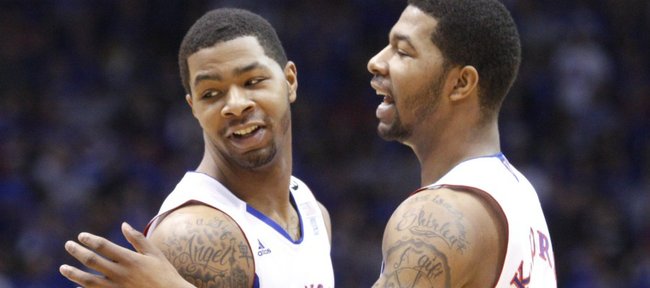 No need to look beyond the local college basketball team to reach the conclusion that trying to figure out how the Egyptians built the pyramids presents no tougher a challenge than attempting to determine why NBA general managers make the draft choices they make.
Oh well, at least the talent evaluators finally appear to be getting in on the secret that the Morris twins, Marcus and Markieff, both shape up as safe picks worthy of the lottery. While they remain all over the place on mock drafts, they're both moving up. Yet, the mock drafts might not reflect just how highly their stock is soaring, according to one man who earns his living influencing draft choices.
"I won't be shocked if both of them end up being top 10 picks," the man said. "Everybody loves them."
Lot to love. Neither twin ever bobbles a ball. They're both great passers. They're Philly-tough, don't have any whine-and-stew to their games and bring magna cum laude-worthy basketball IQs to the court.
As the twins' stock appears to soar, former teammate Josh Selby's looks to be headed in the opposite direction. The grapevine that had Selby has a possible lottery pick knocking teams dead with individual workouts appears to have soured on the guard whose lone season at Kansas was marred by NCAA suspension, injury and a prolonged shooting slump. Some mock drafts have him tumbling into the middle of the second round.
What's up? Maybe scouts are a lot like Kansas fans. The more they saw of Selby, the less they liked him. Or could it be, as one NBA insider wonders, that one team desperately wants Selby to drop to them and has spread rumors that they think he's a bust waiting to happen?
That sort of thing happens. I once had breakfast with a few baseball scouts and the youngest of them asked the oldest what he thought of a player. The veteran proceeded to list red flag after red flag: He puts way too much strain on his shoulder with that delivery. He grips the ball tighter in big spots and once a choker, always a choker. Etc. Once the other scouts left, the veteran shared that he loved the player and routinely throws competitors off the scent when he really likes a player.
Projecting a college cager to the NBA can be tough, but not as tough as NBA general managers have made it look in recent years when drafting Jayhawks.
Darrell Arthur runs faster, is quicker, more explosive and three inches taller than Xavier Henry and Arthur lasts until the 27th pick of the 2008 draft and two years later Henry gets chosen with the 12th pick? Arthur runs the floor far better than Cole Aldrich, has way more offensive skills and is light years quicker, yet Aldrich, chosen two years after Arthur, went 11th in the draft?
And then there's the curious case of Mario Chalmers. The most ridiculous, often-uttered opinion regarding Chalmers holds that he made himself "a lot of money with that one three-pointer against Memphis." Huh? A long-armed guard deft at finishing at the rim, shooting three-pointers and prowling the passing lanes, Chalmers lit up Texas with 30 points in the Big 12 conference tournament title game and he lasted all the way into the second round, the 34th pick?
Why Arthur and Chalmers lasted so long and Aldrich and Henry were swept up so early — sure, it was a weaker draft, but still — remains a mystery.
So does Brandon Rush. Nothing strange about where Rush was selected, 13th in the 2008 draft. That seemed about right. He's an enigma in that he hasn't established himself as a player capable of earning a permanent spot in the starting lineup. He moves his feet so well and has such long arms, he projected as a stellar NBA defender, but until he learns to use his hands to play more physical defense in the manner Brady Morningstar did at Kansas, he won't reach his defensive potential. His jumper looks like those in instruction manuals and his touch is so pure. He shot .417 on threes this past season, but that translated to just 9.1 points in 26.2 minutes a game.
Mysteries abound in the pool of draft prospects, which makes it logical that the Morris twins keep soaring and Selby appears to be plummeting. The twins have proven so much, Selby so little.