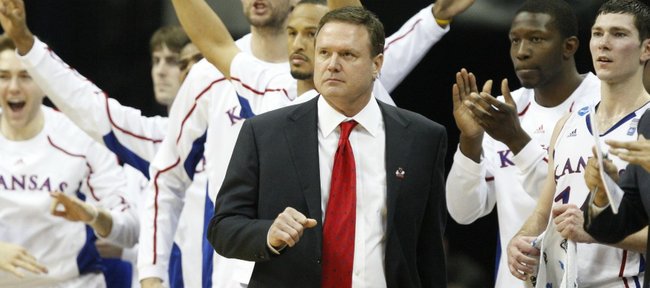 KUSports NBA Draft Contest
Where do you think the Morris twins and Josh Selby will be drafted? Enter our contest for a chance to win $100 in KU gear.
Kansas University basketball coach Bill Self said on Thursday's Big 12 summertime coaches call that the Jayhawks may not yet be finished recruiting players in the Class of 2011.
KU, which has added Braeden Anderson, Ben McLemore, Naadir Tharpe and Jamari Traylor to the 2011-12 roster, still has three scholarships to give after losing out on DeAndre Daniels earlier this week. The 6-foot-8 Daniels chose UConn over KU, Texas and others.
"We've recruited pretty well. We haven't hit a home run from a scouting service perspective, but I think we've got guys that fit what we need," Self said on the conference call. "We could still add another piece or two, but it is getting awfully late."
He didn't name names of any possible prospects in accordance with NCAA rules.
Earlier this week it was reported KU is on the list of schools of Andre Walker, a 6-7 senior forward, who has graduated from Vanderbilt and has decided to play elsewhere his final season. He is free to attend any school without sitting out a year.
No other prospects have yet publicly mentioned KU as far as joining the program next season.
Self told the media he is "excited about next year. I don't think we'll take a step backwards, I think we'll take a step sideways and I think we'll be a totally different looking team than what we were this past year (after losing seven players), but I am really excited.
"My batteries are probably about as charged as they've been, because it is going to be a challenge. I feel it's like the year after we won the national championship. You lose six of your top seven or whatever it was and come back and have to figure out a way to win the league next year. That's where we are at."