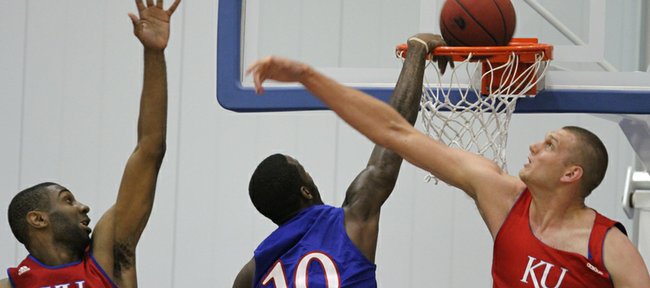 KUSports NBA Draft Contest
Where do you think the Morris twins and Josh Selby will be drafted? Enter our contest for a chance to win $100 in KU gear.
Videos
Bill Self basketball camp scrimmage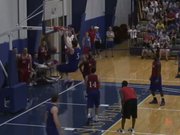 Current Jayhawks and KU alumni scrimmaged at the Bill Self basketball camp Wednesday, June 8, 2011.
Photo Gallery
KU Alumni Scrimmage Game
A gallery of photos from Wednesday's alumni scrimmage at the Horejsi Center.
Kansas University junior power forward Thomas Robinson has the perfect practice partner this summer: Oklahoma City Thunder big man Cole Aldrich.
"I texted him when he first came into town. I said it would be an honor if I could get to work out with him and he share some things with me that he's learned," Robinson, a 6-foot-9, 240-pounder from Washington, D.C., said Wednesday.
Robinson scored 14 points off 6-of-16 shooting and grabbed 10 rebounds in the Blue Team's 71-62 loss to Aldrich's Red squad in a Bill Self campers scrimmage at Horejsi Center.
The 6-foot-11, 245-pound Aldrich hit for 17 points off 7-of-16 shooting with 12 rebounds.
"I'm definitely looking forward to him being here every day. I think it'll make me better," Robinson said of former KU center Aldrich, who is enrolled in summer school and has been in town for about a week.
Aldrich, who told Robinson he'd love to hit the court with him on a regular basis, said he would expect Robinson to be joining him in the NBA at some point in time.
"He definitely has the skill. He can impact the game," Aldrich, said of Robinson, who had the signature play of the scrimmage — a one-handed dunk following a drive down the baseline.
"Just the tip of the iceberg," Robinson said of the slam.
Of the game, Robinson said: "It was intense. Having Cole out there checking me is great for my game. He has a year experience in the NBA. He was a great post player here. Of course I want to check him and try to learn from him and try to steal every move."
Aldrich, who hit several hook shots, exchanged some trash talking while fighting for position with Robinson down low.
"What makes our team a little better than others is we work hard. You saw it out there. Guys went hard today," Aldrich said. "You don't see that all the time in a summer camp game where guys may say, 'It's just a camp game. Get it done with.' Guys were out there competing."
There were plenty of highlights. KU junior guard Elijah Johnson hit five threes and scored 19 points (off 7-of-11 shooting) for the winners. Former KU guard Tyrel Reed scored 16 points, while sophomore forward Justin Wesley had 11 points.
Tyshawn Taylor scored 20 points, Travis Releford 14 and Jeff Withey, who went against Aldrich some, nine points and 11 boards for the Blue Team.
"I told the guys I wanted to win, that was the main thing," Aldrich said. "We had some guys step up. Elijah played really well."
Newcomers Ben McLemore (four points) and Naadir Tharpe (two) played for the winning Red squad. McLemore flushed a vicious dunk off an alley-oop feed from Johnson. Tharpe, after plucking a steal, bounced the ball off the backboard to a trailing Reed, who slammed.
"Ben said at the beginning of the game he couldn't wait to get a dunk," Tharpe said. "Once he got his chance, he was excited. I was going to try to dunk it myself, but I heard Reed say, 'throw it off the glass.' (I was) just being a teammate."
Noted McLemore: "It was a good pass from Elijah. I was a little shaky, first time playing in front of a crowd. I'm happy to be here. I'm here to work."
Robinson said he's convinced that KU, which lost seven players off last year's 35-3 squad, will field another highly competitive team in 2011-12.
"I don't believe in rebounding. I go to Kansas. This is one of the top programs. You look at the track record. They've lost people before, more than we lost this year and came back strong, year after year winning Big 12 championships," Robinson said.
"I don't know what everybody is so scared for. We are gonna be good. We are in good hands. With coach (Bill) Self, with D. (big man coach Danny) Manning, I'm going to become better. Jeff's going to become better. All the guys are going to become solid. We're going to come back to the top where we belong.
"We have our motto. We call it, 'Another 365,''' Robinson added. "365 (days) started three days ago. New guys have come in right away and bought in — work hard and no days off."