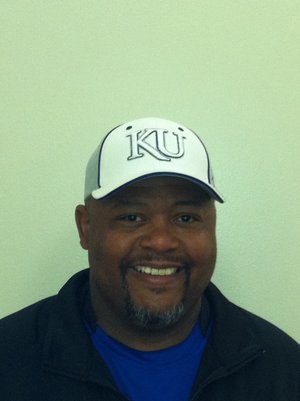 Vantz Singletary has been around football long enough to know a good matchup when he comes across one.
The way he sees it, the name Singletary and the recruiting grounds of Texas are just that.
"Especially around Houston and Dallas, the Singletary name is synonymous with those areas," Singletary said.
Introduced last Friday as KU's new linebackers coach, Singletary took time out Monday morning to visit with the Journal-World about everything from his goals and visions for KU to his fondest memories of his Hall-of-Fame uncle, Mike Singletary, with whom KU's newest assistant coach worked for two years in the San Francisco 49ers organization.
A 17-year veteran of college coaching who spent the 2008 season working alongside KU coach Turner Gill at Buffalo, Singletary elected to return to the college game for two reasons. The first was passion.
"I really liked (coaching in the NFL)," Singletary said. "But college football is something that I really love. It was really nice to know that I had a chance to come back."
The person who gave him that chance was the other reason he decided to return.
"It was pretty much a no-brainer because of my past relationship with coach Gill," Singletary said. "I felt like I owed something to him because I only was with him for that one year in Buffalo. But the National Football League called and it was a call from a very special person in Mike Singletary."
During his time at Buffalo, Singletary learned a lot from Gill, a man who has his own special relationship with Singletary's uncle and actually encouraged the former Buffalo defensive line coach to take the job with the 49ers. In addition to sound guidance, Singletary credits Gill for showing him how to be a good husband, a good father and a good coach.
When the opportunity popped up to rejoin Gill's staff, Singletary instantly began day dreaming about what else he could learn from Gill.
"It was kinda perfect timing," Singletary said. "I knew who I was going to work for. I knew what he was all about. And it's hard to find that in this business. So, to me, the decision to come here to the University of Kansas was easy."
Like most members of Gill's staff, Singletary preaches effort, accountability and intensity to those he mentors.
"People always ask me, 'What defense do you like to run?'" Singletary said. "And I say, 'You know what, I'm big on fundamentals and I'm big on technique. Fundamentals and technique is what those guys need. If they execute in any one of those packages, they're going to be successful."
Because he's a native Houstonian, Singletary, 46, has strong recruiting ties throughout Texas. But he says developing meaningful relationships with the young men he's trying to sign is the key to success.
Of course, in that neck of the woods, having the Singletary name to go along with his recruiting prowess doesn't hurt.
Singletary, who's mother is Mike Singletary's older sister, is married and has four daughters, ages 24, 22, 17 and 13. He said he hoped to have his family moved to town by July 4 and added that he'd be hard at work for the rest of the summer.
"This is not a vacation for me," he said. "I'm still pressing forward and I'll be watching the guys from a distance, trying to learn what kind of team we've got here."