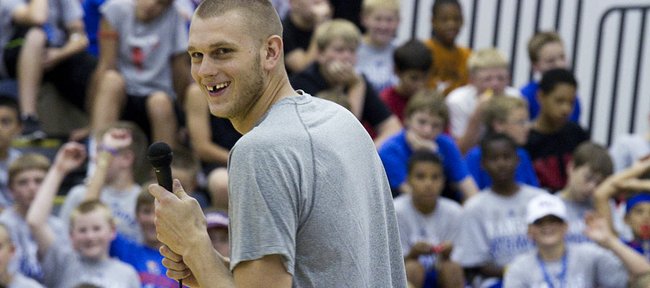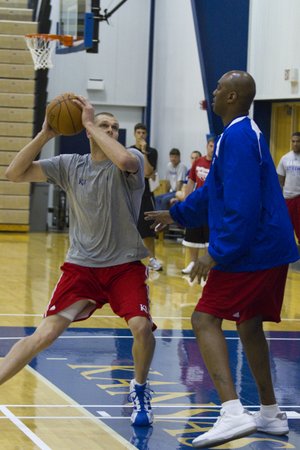 Gregarious former Kansas University center Cole Aldrich flashed a big smile as he fielded 15 minutes worth of questions from Bill Self's 700 basketball campers Monday afternoon in Horejsi Center.
Still missing was the front tooth that popped out in a game against Kansas State way back on Feb, 14, 2009, at Bramlage Coliseum in Manhattan.
"It makes me look tough," joked the 6-foot-11, 245-pounder, who just finished his rookie season with the NBA's Oklahoma City Thunder.
Back on Kansas University's campus for summer school and to work out with the current Jayhawks, Aldrich answered, "soon," when asked when he's finally going to get the tooth replaced.
Aldrich, who has referred to himself as a big kid at heart, was a hit with the campers who, among other things, asked how much he was paid his rookie season.
"Obviously not enough if I'm coming back working camp ... 5,000 cheeseburgers per game," said Aldrich, who actually made $2,126,520 last season with three years left on his lucrative NBA deal.
Quizzed about what he thought of KU coach Self, Aldrich cracked, "Is coach Self in the room? ... He's a great coach. He makes you work hard, teaches you things on the court but more importantly off the court, things that make you a better person when you leave here."
While here playing pick-up basketball this summer, Aldrich figures to guard, and be guarded by, 7-footer Jeff Withey, who is looking for a breakout junior season after not making the rotation a year ago.
"You look at guys around the country in major-college basketball ... guys can pop up in one year. My freshman year, I didn't play much at all, then my sophomore year I had a big year," Aldrich said. "He can use the summertime as a springboard into the season to get that confidence and to get better."
Aldrich will be watching TV with interest on June 23, when KU's Morris twins and Josh Selby are all expected to be first-round picks in the NBA Draft.
"I think they definitely can be good players. I think they can impact the game," said Aldrich, who scored 18 points, grabbed 35 rebounds and blocked 18 shots while playing in 18 games for a powerful Oklahoma City team that fell to Dallas four games to one in the Western Conference finals. He also averaged 10.3 points and 8.6 boards in 21 games for the Thunder's Developmental League team in Tulsa.
"It definitely takes a while to get used to the NBA system. It's different than the college system, just trying to understand the game and working hard at it," Aldrich added.
His advice to the KU trio? "To work hard. It's great to get drafted, but that's just when the work starts. Once you get drafted, you may be fortunate like myself to get to a really good team or you might go to a team that's struggling ... work hard and stay positive during the grind."
He's been watching closely as former KU teammate Mario Chalmers' Miami Heat have grabbed a 2-1 lead over Dallas in the NBA Finals.
"Mario is playing really well. He's made some big shots," Aldrich said. "He is a key guy for them off the bench to stretch the Mavs' defense.
"The Finals are exciting," Aldrich added. "The game last night (88-86 Miami win) ... it could go down any way. It comes down to the fourth quarter obviously ... whoever takes care of the ball and can get a good shot up."
Camp coming
Aldrich is hosting a camp for boys and girls kindergarten through eighth grade June 27-30 at Olathe Northwest High. Aldrich will be assisted by former KU players Jeff Gueldner, Tyrel Reed and Mark Randall. Registration forms are available at http://www.colealdrich.com/.