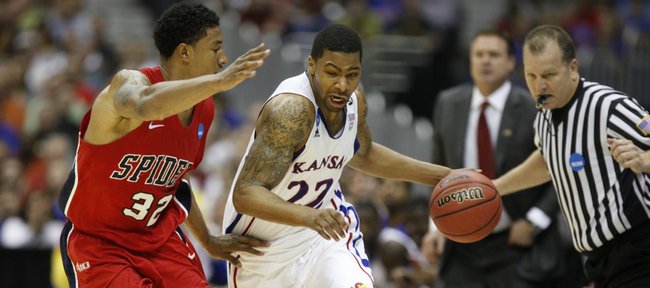 Former Kansas University forward Marcus Morris, who continues his tour of NBA cities leading up to the June 23 draft, worked out for the Milwaukee Bucks on Wednesday.
"I thought he played very well. He is a versatile forward that can play both forward positions," Bucks director of scouting Billy McKinney said in an interview available on nbadraft.com.
"We had a chance to interview him at the pre-draft camp in Chicago. It was a very impressive interview, and he was a very impressive player today with his ability to play inside/outside and knock down outside shots. He has a lot of talent. He'll be a first-round selection no doubt."
The Bucks, who also worked out Georgia's Trey Thompkins, Virginia Tech's Malcolm Delaney, Marquette's Dwight Buycks, College of Charleston's Andrew Goudelock and Nicholls State's Anatoly Bose on Wednesday, have the 10th pick in the draft.
"He (Morris) will be a hybrid forward," McKinney told the Milwaukee Journal-Sentinel. "With some smaller lineups I could envision him playing the power forward position, but he's also good with his ballhandling skills out on the floor that he can play some small forward position as well."
The 6-foot-9 Morris said he likes the idea of playing in Wisconsin.
"It definitely could be a fit," Morris said. "I like Milwaukee. It kind of reminds me of Kansas, kind of a smaller, quiet town, great traffic.
"To have another Kansas guy on the team couldn't hurt (along with forward Drew Gooden)," he added to the Journal-Sentinel. "It (playing at KU) definitely prepares you a lot. We take practice into the games."
Of the day in Milwaukee, Morris said: "It was a great workout. I got to get after it a little bit and shot it real well."
Morris' next workout will be Monday for the Golden State Warriors, who pick at No. 11.
More workouts: Former KU guard Josh Selby, who reportedly worked out for San Antonio on Wednesday, will work out for the Miami Heat today. K-Stater Jacob Pullen will also be at the Heat workout. ... Markieff Morris will work out for the Charlotte Bobcats today.